Schwab Advice Academy.
The Schwab Advice Academy is your direct path to a fulfilling career in financial planning and advice. We offer a hands-on learning program and real-world experience you need to take control of your future. During your 12-month Academy journey, you will receive training and support to attain industry licenses and to pass the CFP® exam. Participants will also earn valuable professional experience required for CFP® certification.
We are looking for multi-faceted individuals with ambition, curiosity, tenacity, initiative, interpersonal skills, and the desire make a lasting and positive impact on the financial lives of others. Only a select group of applicants are accepted to the Advice Academy. Our program propels you along your career path to a rewarding long-term career within Schwab's premier wealth management organization.
Outstanding candidates have:
Strong academic performance records and a bachelor's degree completed prior to your start date at the Academy.

Met or are close to meeting CFP® Coursework Requirements prior to your start date at the Academy.

Serious interest in helping others through financial planning and advice as a long-term career.


Clear skills in relationship-building and emotional intelligence.

Excellent leadership capabilities.
Everything you need to succeed.
Structure.

The program provides transparent, destination-based program structure.

People & service skills.

Through service training and real-life interactions, learn to build the soft skills necessary to provide world-class service and successfully manage relationships as an advisor or financial planner.

First hand experience.

Gain experience in the investment industry and financial markets.

Consultative & presentation skills.

Learn how to prepare and present helpful and relevant solutions to clients.

Personalized coaching & mentorship.

Coaching and development plans to support differentiated learning experiences.

Support.

Learn comprehensive modern wealth management and train to take industry exams and secure licensing credentials.
Your academy journey.
You'll begin your journey in one of our major Schwab offices where you'll have the opportunity to learn how to provide advice and financial planning at Schwab. Participants will benefit from mentoring and coaching by current and former advisors and financial planners dedicated to supporting your success both during and after the program. After graduation, you'll experience the securities industry firsthand as part of a service team within Schwab's Investor Advice Solutions organization.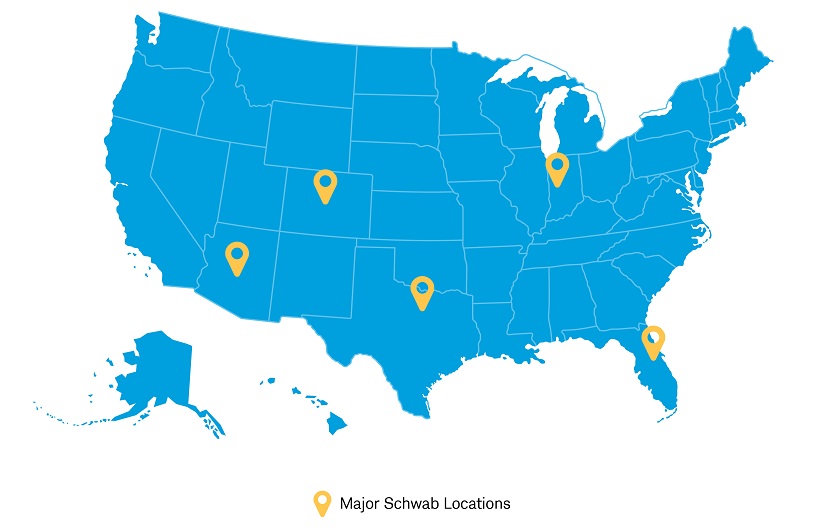 Location: The Schwab Advice Academy has multiple comprehensive training sites (locations vary by cohort).
What to expect.
Onboarding – Welcome; meet your fellow cohort members.

Licensing – Study for and attain industry licenses.

Training – Benefit from cohort-based learning opportunities and learn to provide exceptional service and address clients' trading needs.

Immersion – Gain hands-on experience within Schwab's advice related businesses to apply your skills in client conversations to acquire CFP® experience.

Graduation – Begin your career in Investor Advice Solutions, where Schwab delivers comprehensive wealth management strategies with ongoing advice and investment guidance.
Attain the CFP® – Prepare for and pass the CFP® Board Exam; complete the experience requirements and begin using the designation to propel you along your career path.
How to apply.
Advice Academy has two cohort opportunities each year with start dates in February and August.
View current openings and use the keywords "Advice Academy"*
*If no opportunities are posted, please join our Talent Network to tell us about your professional interests, receive updates about new opportunities, and connect with members of our Talent Acquisition team.