Building a Career at Schwab: Intern to Full Time Schwabbie - Hear Randy's Story
By Andie T.
Originally from Schaumburg, Illinois, Randy A., moved out to Arizona with his family when he was younger. He eventually returned to his home in Illinois and studied Financial Economics at Illinois Wesleyan University. While Randy wasn't studying and actively pursuing his major, he also played basketball for his university. When he was going into his senior year, Randy applied for an internship at Schwab and started his internship in the summer of 2014.
Randy expressed that he was unsure of what he wanted to focus on for his internship, but was able to narrow it down after talking to his fellow Schwabbies: "I just knew that I was interested in the stock market and I liked all the ins and outs of it and I wanted to learn. The main thing I did coming into my internship was interviewing anyone that I could and getting a good grasp of what Schwab does. Once I was able to boil it down and wanted to go to Schwab Private Client, I started looking at the different skills that would help me."
Schwab encourages all employees to Ignite Their Passions and pursue what makes them feel fulfilled and challenged. After completing his internship, Randy realized what area made him feel like that: "I decided after my senior year that I wanted to come back to Schwab and hit the ground running, so I started off in a Financial Service Professional role, then moved to the Advanced Training Team, then an Associate Portfolio Consultant within Schwab Private Clients." Amidst the multiple roles he's transitioned to, as of most recent in early 2019, Randy is now a Private Client Advisor and has reached his 5 years this past June.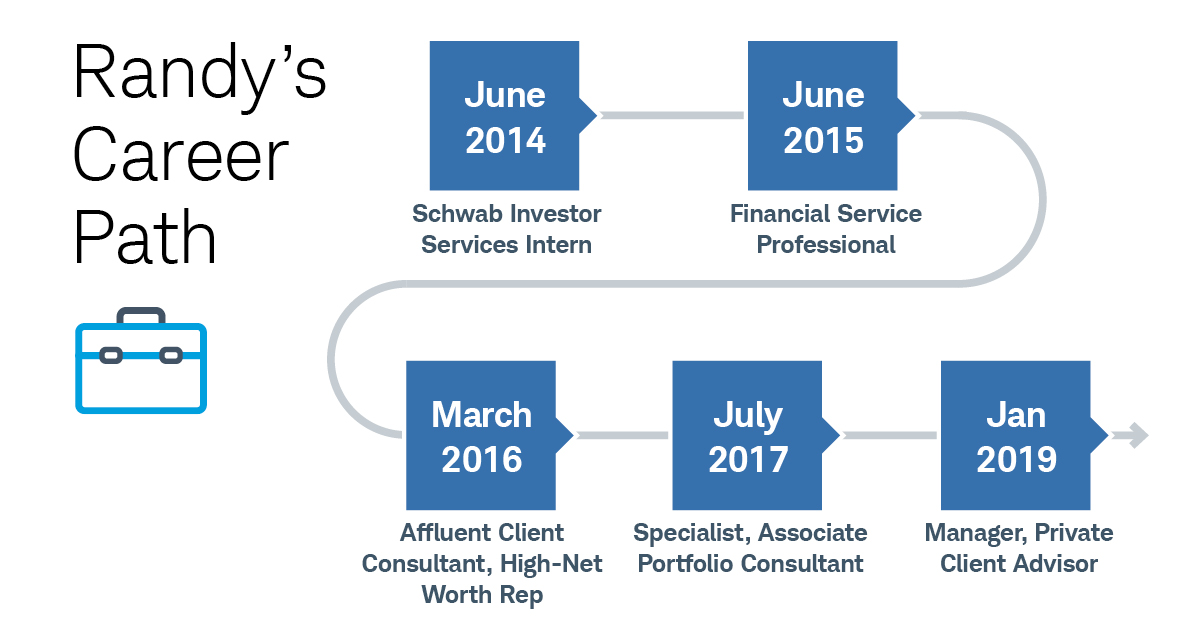 On a day to day basis as a Private Client Advisor, Randy described that "we are strictly remote mostly on the portfolio side. Schwab Private Client has evolved since I have come back to Schwab in general. My typical day looks like having my morning routine and in the books studying for my CFA. Then I crack open my research panel and look at all the different ins and outs of what is happening in the market. Then I start my day as far as reviews. Anytime I have a portfolio review or financial planning review with a client, those are usually one-hour blocks on my calendar and then everything in between."
With spending five years at a company, there are bound to be learning lessons that come throughout one's career journey. Randy mentioned that he has learned the value of, "prioritizing skills that are going to help you get to where you want to get to." In addition to learning this himself, he has also been able to benefit from Schwab's supportive culture and the environment as a company: "Coming into Schwab, I had other offers, but they did not prioritize career development as Charles Schwab did. The big thing for me is a career development and wanting a company that will give me the best resources and tools to help me reach my goals."
As Schwab has provided Randy with the necessary information and resources to be successful in his role, Randy also had some useful words of advice for any future interns at Schwab on how to grow their career: "LinkedIn is a very powerful tool nowadays. More than anything, just figuring out what path is good for you or interests you and then, from there, looking into what helps you get to the top of that path that you want to get to. Definitely prioritize that growth and the skills that get you there. Most importantly, I know it is difficult for you guys, but have fun with it. I still have a lot of friends and some of my best friends from the internship. Use it as an ability to branch out and network, but also use it personally to help yourself grow so you know the best options for you coming out of college."
As Randy's professional career progressed from a place of uncertainty to a clear-cut role in Schwab Private Client, Schwab encourages every employee to figure out what Ignites Their Passions and we provide the resources and support to help get them there. Throughout the twists and turns of your career journey, Schwab is here to help Unleash Your Potential whatever path you decide to take with us.
Ready to Ignite Your Passion at Schwab? Learn more about the Schwab Intern Academy.