Service at Schwab: Finding Fulfillment in Your Career Through Serving Clients with David F.
By Andie Teresi
Are you someone who genuinely enjoys helping others? Do you value improving yourself professionally and the opportunity to grow your skills all while receiving support from leadership? If this resonates with you, a career in Service may be the perfect place to start your career journey.
For the past 3 years, David F. has been working in Client Service & Support, working his way up from the general customer service line, to his current role as a Senior Specialist on the Income Solutions Service Desk assisting clients with navigating the bond and treasury markets, as well as helping clients place trades and answering any questions they have along the way. David's finance background began in college as he studied Business Management at Michigan State University and earned his Master of Business Administration in Finance from Cornerstone University.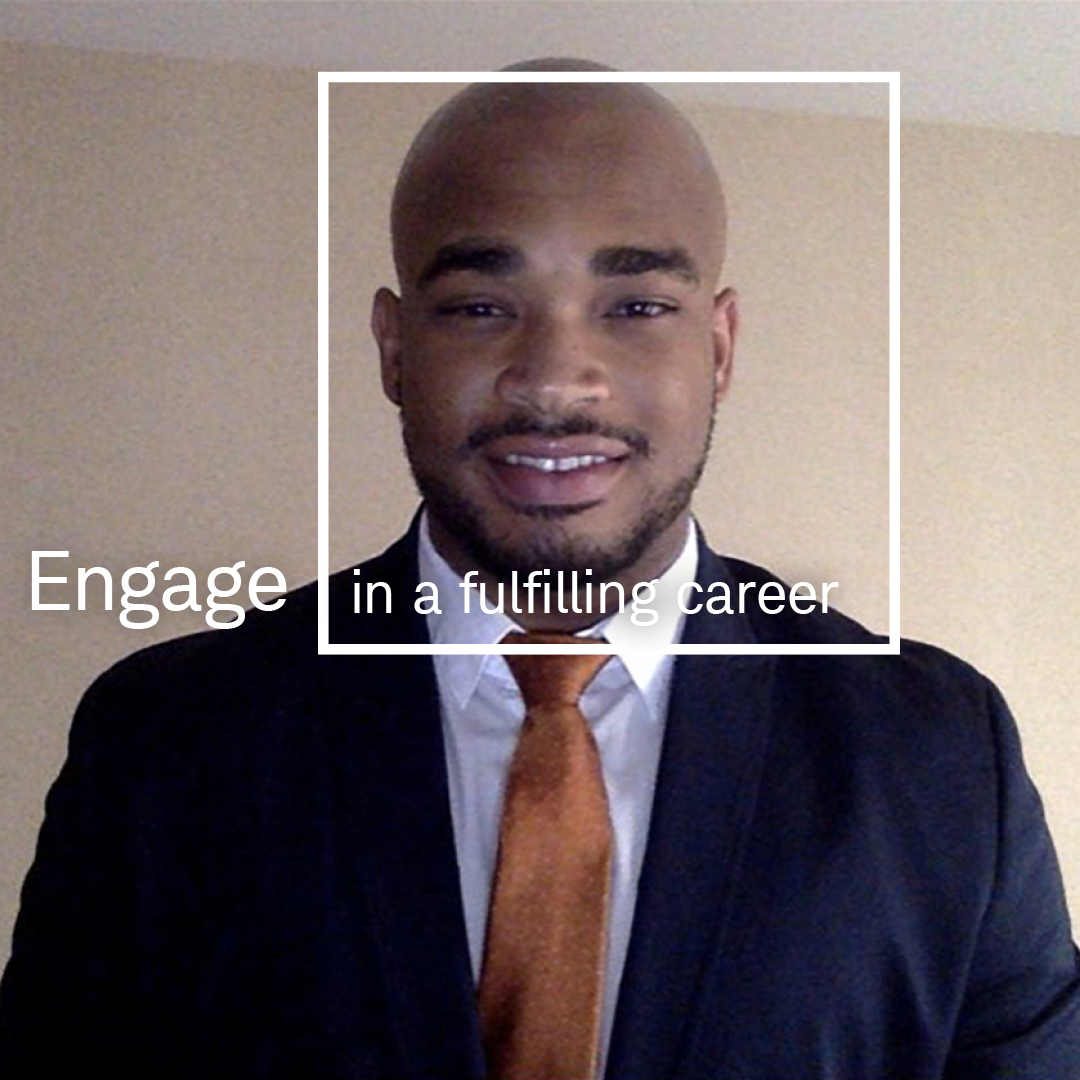 As someone who naturally loves to learn and help others, David was looking for a company where he could grow in his career and develop his finance acumen. He felt like Schwab was the perfect place to help him accomplish those goals and was attracted to the company because he had the opportunity to be compensated while studying for his Series 7 license: "I consider myself to be a learner. I love school, so it was a perfect environment to be in. Schwab provided me the time that was needed to study for the Series 7 and they made me feel comfortable doing it because you're in a classroom full of 15 other people who are trying to achieve the same goal. I ended up getting licensed in 2018 and my Series 7 helped me move on to become a real active broker. Once I got my 7, I felt like I found my place and I found my home. I say that because Schwab has a ton of opportunities to grow and maneuver around."
As David found his home within Service, he also mentioned that his leaders continued to provide support even after he earned his Series 7: "My managers I've had here over the past three years have been some of the best managers I've had in my entire career even before Schwab. I say that because I've been empowered to take on certain tasks and Schwab does a great job of exposing you to leadership. When you want to get beyond the Series 7, they look for other opportunities that can help direct your career where you want to go, whether that's leadership, going into management, or earning you Series 9 and 10. During those one-on-one conversations with your manager, you're able to tell them what your career goals are at Schwab and then they're going to help direct you to what licensing is going to benefit you the most. They do a really good job of keeping that conversation going even after you get the first license – it's encouraged. I love that because they're wanting you to progress and everyone wants to see you do well."
Similar, to how David's managers want to see him do well and succeed, David also shares the same mentality when it comes to helping his clients every day. "I love helping people, that's first and foremost. I feel like the industry we're in, the company we work for, and the work that we do is important. I find fulfillment in those success stories when people come in and they don't know what to do and I'm the person they're calling. I say this every day, 'I don't have to, I get the chance to help people,' and I'm thankful and appreciative of that. For the people that I'm able to enlighten a little bit more, I know I've impacted someone somehow, whether it's something small or big. I think that's what gets me going every day and knowing at the end of the day I helped someone."
When asked about his long-term career goals, David mentioned that he'd like to continue helping others in a leadership role, especially individuals newer to the field of finance. "I eventually want to be in leadership, whether that's managing a direct team or whatever it may be. I also want to lead a team of young and upcoming people in the finance industry because I know what it's like to be in their shoes. I had a finance background including what I learned in school and in my grad program, but real-world experiences are a lot different than what you learn in the classroom. Dealing with people's money, the risks you take on, that's a lot different than taking an exam a couple of times a year. It can be a scary world and I want people to know that you don't have to be this whiz kid and know everything. You can come into Schwab with an open mind, learn, and be successful. If I can pass down on how I navigated myself through here, I can do that through leadership."
For anyone considering a role in Service at Schwab, David explains that Schwab stands out compared to other firms because of the transparency and the way they cultivate a learning environment from day one. "Schwab is going to encourage ongoing learning even after you pass your licenses. When you come into the training courses, they're going to bring you along in a way that is not rushing you along. They're going to make sure that you know and are equipped as much as you can. When you do get on the phone, they slowly bring you on and I think that's great because if you're new, you don't know everything. Schwab is going to be very transparent in where you're at with your learning and I think that transparency is key in the industry so that you know why you're doing everything that you're doing. I really love that I always knew what to expect within my first few days, weeks, and year." Additionally, David mentioned that there is always an opportunity to progress your career at Schwab: "There's a ton of ways to move up, you're not stagnant in one role. There's always going to be a place for you at Schwab and I love that. Everyone wants to see everyone succeed and find the best fit for them."
Lastly, to be successful in this role, David gave his words of advice: "Come in with an open mind – just be a sponge, be willing to learn, be willing to accept that you don't know everything and be okay with that. There will be plenty of opportunities to learn everything you need to do, and Schwab will make sure you are equipped with all the knowledge, tools, and resources to be successful on the phones and servicing our clients. Make sure you learn as much as you can and really lean into the industry that you're getting into because it's forever changing."
If you're ready to find fulfillment in your career like David, make sure you check out our Service team.