Fostering Success: Brandon S.'s Commitment to Service.
By: Beau H., Content Manager

At Schwab, lending a helping hand to individuals and communities is an important part of our commitment to serving others. For years, initiatives like Schwab Volunteer Week and our Time to Volunteer benefit have given Schwabbies the opportunity to roll up their sleeves and commit their efforts to causes they feel passionate about. With hundreds of virtual and in-person volunteering opportunities to choose from, our people are actively making a positive impact in the lives of people across the country.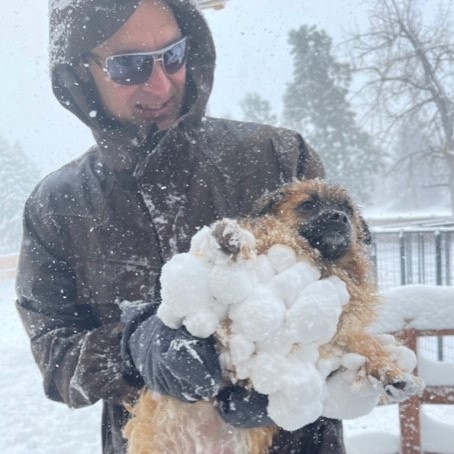 Brandon S., a Product Director under Digital Wealth Products and Schwabbie of 17 years, is showing his commitment to service by fostering dogs in need. For over 7 years, he and his significant other have worked tirelessly to provide a safe and loving home to countless pups, helping them heal and find their forever families. Keep reading to learn about Brandon's time at Schwab, and how his inspiring commitment to service is making a meaningful impact in the lives of clients and puppies alike.
Thriving in a Supportive Environment.
Brandon's path to Schwab began after a move to the Phoenix area. Excited for a fresh start and with years of experience in the field of investing, he sought work at a firm that matched his authentic approach to life and recognized his skills. After a brief job hunt, he found the opportunity he was looking for at Schwab. "I liked the company and its values, so I went for a Client Services role and got the job. I loved how we were able to empathize with clients and find ways to help and support them. That was a little over 17 years ago now," he explains.
Over the proceeding years, Brandon's journey at Schwab has taken him through a variety of meaningful roles that have enabled him to effect positive change in finance. For him, the opportunities and support he's encountered over his tenure at Schwab have played a large part in his professional success. In his own words, "this company is so focused on doing right by the client and right by you, and that has been evident from day one."
Brandon's current role as a Product Director under Digital Wealth Products is a source of excitement for him. He expresses his love for engaging in a team-like environment and navigating the challenges of working in the digital space. "I've enjoyed all my roles at Schwab and the impact I've been able to make. In my current job, we build a lot of the backend technology that's used across managed investing, and I get to work in a collaborative setting with very talented people," he explains.
Fostering the Success of Others.
Schwab's focus on giving back to the community was one of the initial things that drew Brandon to the company. As a person who likes to lend a hand to those in need, he appreciated the opportunity to use the Time off to Volunteer benefit and Schwab Volunteer Week initiative to engage with important volunteering projects, like refurbishing a temporary housing facility in Denver.
But Brandon takes his passion for service beyond company-sponsored gatherings and PTO benefits. Guided by his personal values, he's dedicated himself to serving the wellbeing of others by fostering dogs who have been abandoned by their previous owners. With a refreshingly self-aware view on life, Brandon explains that "I've been fortunate enough to move in a desired direction without fail. Because of this, I look for opportunities to give back to those less fortunate - and in this case specifically, animals who are less fortunate."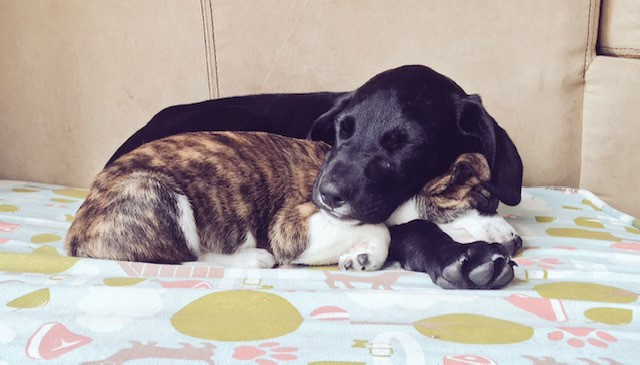 Now based out of Colorado, Brandon and his partner are "all-in" on providing these pups with the best chance of finding their forever home. "We get the dogs the medical attention they need, like puppy shots or anything else that ensures they are healthy. Then, we give them some behavioral training," he says. "It's all to give them the best chance of success when transitioning into a new home."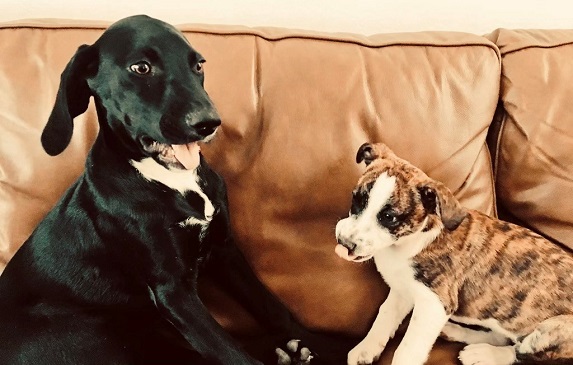 It's clear that Brandon approaches his work, volunteerism, and service to others with great care. His dedication to helping shines through in everything he does, whether it's building impactful backend technology or fostering dogs. For him, a career at Schwab runs parallel to this level of care, where "everybody at Schwab wants to be a part of giving back, and I think if anything, that's only enhanced my already positive view of the company," he explains. "It's nice to know that we're always trying make a difference in the world."
(0523-3ARU)