Women's History Month: Spotlighting WINS ERG
Promoting diversity and inclusion at Schwab is foundational to the success and wellbeing of our talented people. That's why we've created Employee Resource Groups (ERGs) that help establish safe spaces for Schwabbies to learn, grow, and build a sense of community for individuals with similar experiences and cultural backgrounds.
One of these ERGs, the Women's Interactive Network at Schwab (WINS) group, dedicates itself to supporting female member's professional success through development opportunities, wellness resources, and knowledge-sharing conferences (to name a few).
Keep reading to learn more about how our WINS ERG is implementing exciting initiatives that champion women's representation and advancement in the field of finance.
What is WINS Mission?
The collective efforts of the Women's Interactive Network at Schwab aim to empower employees by promoting leadership, career development, and the financial learning and health of its members. In the spirit of inclusion and valuing the diverse perspectives of people across our firm, the WINS community also welcomes men, non-binary, and gender non-conforming Schwabbies to its ranks.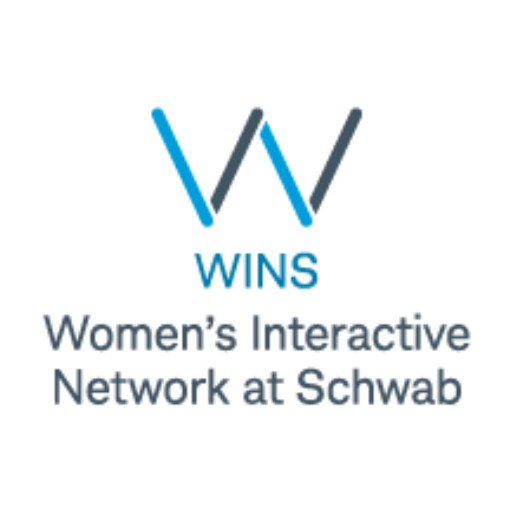 How Does WINS Empower its Members to Thrive?
As a community, WINS members and allies prioritize each other's professional expansion and personal prosperity through extensive networking and frequent celebration of one another's unique abilities. During the month of March, members also partake in an annual celebration of Women's History Month, where women's contributions to history, culture and society are recognized in addition to a wealth of events like fireside chats with influential female leaders and community outreach opportunities.
Development Resources
WINS continues to focus on building a robust library of development resources for its members and professionals at Schwab. This library archives past WINS event recordings, lists their newsletters, and contains National WINS' "WINS TV" videos highlighting the array of talented women within the firm who share their personal experience.
WINS event recordings ensure that all members have the chance to discover talks on leadership principles, expanding your personal brand, allyship, the courage to venture into new career paths, and more.
Lists of articles, books, podcasts, and networking resources designed to help female professionals at Schwab create meaningful connections in business and support their ability to advance in their careers.
Past presentations featuring workshops, WINS organized retirement planning seminars, and speakers highlighting key benefits available to working parents and caregivers at Schwab.
A Focus on Female Employees, Clients, and Future Talent
A large part of WINS goal to empower and represent women across our firm is achieved through a collaborative effort to support current employees' success, promote the financial learning and wellness of female clients, and attract female talent to help shape and define the future of Schwab. There are many exciting initiatives WINS actively spearheads in order to reach this goal, including the ERG's partnership with the Latinas in Tech organization. With the field being historically male-dominated, WINS and Latinas in Tech are working to shed light on the array of technology-based opportunities for female candidates at Schwab, our nurturing and collaborative culture, and our efforts to ensure there's equal opportunity for all to build a meaningful career here. Here are some thoughts from Latina Schwabbies about their experiences working in the tech at Schwab:
"My career path is a great testament that if you work for a great company, you can end up in a career that you never even envisioned for yourself" – Olivia
"A major factor in me joining was to see how many women there were in leadership. For me it was empowering to think that, as a Latina, not only would I have a seat at the table but that I would have a voice in the decisions that were being made" – Jackie
"When I started at Schwab, I was really excited by the amount of successful women leaders I was surrounded with in the Digital Services and in the Technology organization, and I have role models that inspire me every day" – Alexandra
______________________________________________________________________________________
Read more about how Schwab is empowering women to thrive across finance, service, and tech by visiting our careers blog! https://www.schwabjobs.com/blog
(0323-38UU)