Mayra C., a VP Financial Consultant in our Sacramento branch, has built her career with Schwab over the span of 25 years. In that time, she's experienced it all: role changes, market instability, and a technology revolution in the finance industry. Through each turn along her professional path, she's gained valuable insight into the importance of self-advocacy for women in the workplace – and praises Schwab for always "empowering employees' learning and advancement."
Ambition to Succeed
Mayra started her Schwab career in earnest on December 31st, 1997. She recalls champagne flowing and being warmly welcomed into the Transfer of Accounts department by her new leaders and peers. Using her fluency in Spanish, Mayra excelled at assisting clients with overseas transfers and enjoyed overcoming the challenges of her exciting role. But after a few years, she found herself wanting to engage in other meaningful work in the emerging tech field at Schwab.
"I caught up on the rise of tech in the financial space and landed in a position educating Schwab clients on how to trade with handheld devices."
After successfully transitioning into this new role, Mayra continued to excel with the support of her leaders and team. By 2000, she was even on track to becoming a manager – then the dot.com bubble burst, disrupting the entire market and forcing her to make the first major pivot in her career.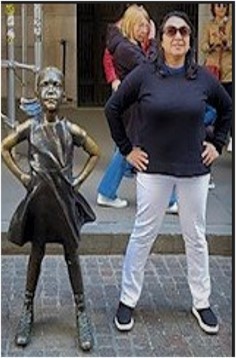 Self-Advocacy, Networking, and Navigating Her Career Path
After relocating to Phoenix and considering her options, Mayra realized the importance of self-advocacy and how it might help her progress at Schwab. In her previous role, she had pushed to take the Series 9/10 licensing tests despite not needing it to be effective in the tech space. It was this act of advocacy that proved to be just what she needed to take the next step in her professional journey.
As an individual that has always tried to "see the bigger picture," Mayra knew gaining her Series 9/10 licenses could come in handy down the road – and she was right. To her, the heart of Schwab's commitment to serving clients laid in its Financial Services efforts, and it was this foresight that compelled her to step out of her comfort zone and gain new expertise. With her licenses in hand, Mayra was able to reinvent herself and transition into a Client Relationship Specialist position.
During her initial years in Phoenix, she also started developing a curiosity about women in leadership positions at Schwab. She frequently asked herself Who are these women? and How did they become leaders? Searching for further information, Mayra took advantage of Schwab's collaborative culture and began reaching out to senior women leaders across the firm. This simple act enabled her to form lasting friendships and gain insight into the values, opinions, and thought processes of successful female Schwabbies. After creating her own support team of mentors, Mayra was ready to start implementing what she had learned.
Taking Steps to Reach Her Goals
After moving back to California and joining the Walnut Creek branch, Mayra noticed that an Operations Manager position had opened at Schwab's Menlo Park location. Remembering how Schwab had given her advancement opportunity in the past, Mayra decided to interview for the role - and was selected.
"It was another example of Schwab making good on their commitment to provide employees with advancement opportunity" explains Mayra. It was there, at the large Menlo Park branch, that she truly began to flourish.
Finding Her True Passion
After quickly adjusting to the dynamic nature of her Operations Manager position, Mayra went on to become a key contributor to the success of the Menlo Park branch. Feeling empowered by her success and supportive team, she began learning the ins-and-outs of how to progress to the role of Branch Manager. But in order for her to be fully prepared for the job, she was first encouraged to gain some experience as a Financial Consultant. The rest, as they say, is history.
Once Mayra began her journey to becoming a Financial Consultant, she found that she had located her true professional passion. Apart from the joy she gained in helping clients reach their financial goals, Mayra also recognized that the impact she was making in other's lives would allow her to leave a lasting legacy in finance.
After 13 years as a successful Financial Consultant in the Menlo Park office, Mayra and her family decided to move to her hometown of Sacramento, California, where she is currently based. Mayra is thriving in her new-but-familiar environment and is looking forward to creating stronger ties to the community that she calls home.
Looking to the Future
It's been a storied 25-year journey, but Mayra says she "still has more to give" to clients, fellow peers, and to her goal of leaving a lasting legacy. She even envisions revisiting the Branch Manager role as a possibility, given that Schwab has always been open to providing her with the opportunity to grow in her career.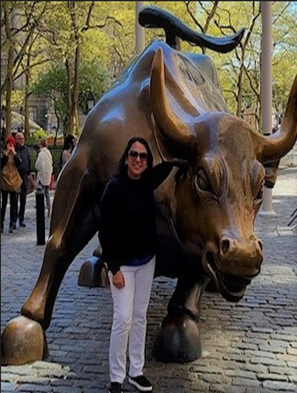 But whatever the future brings to Mayra, one thing is for certain: as an established female leader at Schwab, she's paying it forward by inspiring the next generation of women to own their careers and drive positive change.
(0423-3UK1)