We're Better Together: Schwab's Commitment to Giving Back
By Andie T.
Service is at the heart of Schwab's culture. Whether it's serving our own Schwabbies, clients, or the communities around us, we value the opportunity to give back to those we care about. To make sure our Schwabbies can give back to the organizations and causes they care about most, our Time to Volunteer (TTV) benefit allows them to do just that. Eligible employees receive up to 8 hours of paid time off annually to volunteer with an eligible organization and are encouraged to help individuals, families, and communities where they live and work become empowered to improve their financial well-being.
Let's see how some of our Schwabbies have used their Time to Volunteer benefit!
Lauren M., Sr. Client Relationship Specialist
"My name is Lauren, I'm a Sr. Client Relationship Specialist with the Centralized Relationship Solutions Team and a Co-Chair of Black Professional at Charles Schwab (BPACS) Denver.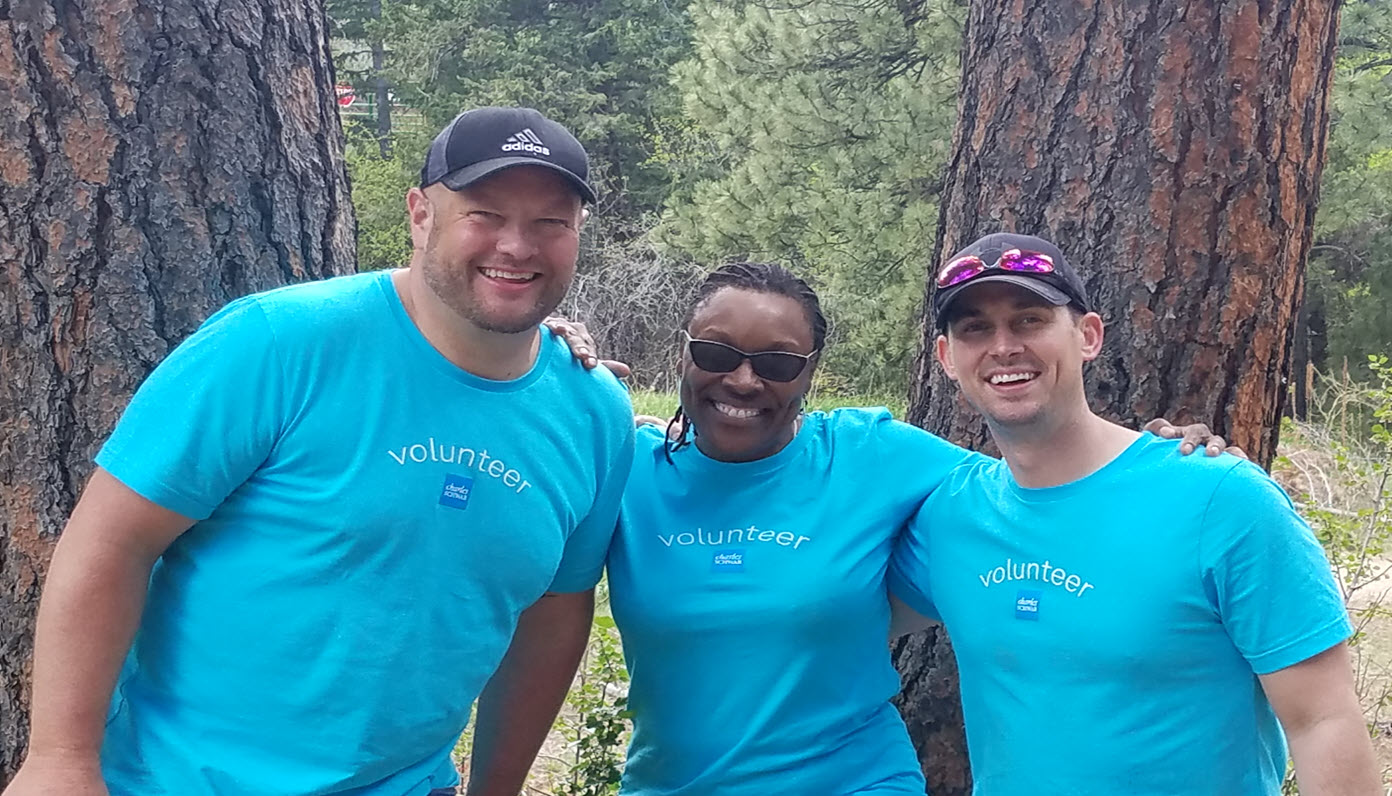 I have utilized my TTV hours since approximately 2010 by supporting numerous organizations. The first few years were for Project Night, which was donating time to create bags with a book, stuffed animal, and blanket for homeless children. I then led a volunteer project three years in a row with Denver Mountain Parks. I coordinated the workforce with the Cherry Creek and Downtown Denver employees, we refurbished picnic tables/benches and hiking trails, it was whatever help the Park Ranger needed that particular year.
For the last 4-5 years my TTV time has been spent dedicating my hours with College Track teaching underrepresented high school scholars, financial literacy. This has been the most rewarding project, realizing you are literally changing lives with the information you're providing, and the engagement of the students makes it worthwhile. I and my BPACS members use the Moneywise curriculum (a financial education resource, which gives people the information and tools they need to build a secure financial future) as our guide but we also try to include current day events and examples to ensure they understand the information.
The benefit of TTV is an opportunity to give back. It is true what they say about giving back, it feels like you get more out of it than the people you're helping. Therefore, I continue to take advantage of the volunteer time every year!"
Jan H., Sr. Manager, Retail Corporate Development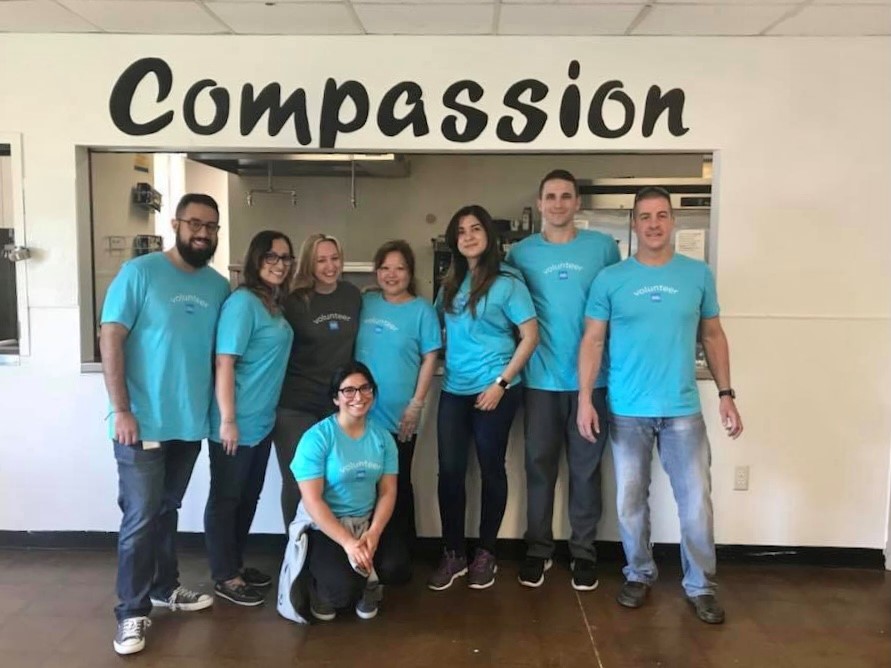 "Volunteerism with impact is something that Schwab introduced me to through our Community Ambassador Team in Denver when I joined the firm 8 years ago. As a member of our Workplace Financial Services (WFS) Sales and Relationship Management Team, I built my career working with clients and internal partners to help people Own Their Tomorrow, and that is also what we do when we help those in need in our community. I champion an amazing organization called Urban Peak (UP), whose work with homeless teens I am particularly passionate about.
UP works with incredibly brave teens and young adults who either aged out of the foster system or were leaving a difficult situation and ended up living on the streets. As kids, you don't have much control over what happens to you if you are born into difficult home life or situation – but these residents are inspiring because they have decided to take control of their lives and work for a better future. Homeless kids from age 12 to 20, who have been referred to UP by adult shelters, commit to being drug and alcohol-free. They attend school, do chores, and partner with local businesses to obtain and hold down jobs. UP helps them with finding their birth certificates and other paperwork needed to get a driver's license and apply for a job. When they reach 18 and are able to show responsibility, they have the opportunity to apply to live in one of the UP apartment complexes where they learn to pay bills, manage money, and take care of themselves. After one to two years, they can move out and on their own. That is where we come in!
Schwabbies started out with UP making meals for the shelter during our Schwab Volunteer Week. I had the privilege of being a volunteer my first year at Schwab and then took over the Project Leader role, expanding our involvement and building a relationship with the organization. We saw an opportunity to help the apartment residents with financial education and began a program using our Moneywise materials to help residents as they prepared to move out on their own. Managing money isn't easy, but with a little help and education, these motivated kids hope to never have to live again in a shelter. They can reach their dreams! UP has a 98% success rate in getting homeless teens on to productive adult lives, and it is a privilege to get to work with them. This year UP is having apartment residents partner virtually with Schwab volunteers to learn financial education.
My favorite success story is a young woman at the shelter who was working at a Subway and learning how to budget. We talked to her about investing in the 401K offered by the company and setting up a savings account so she could think about the future on her own terms. It was a powerful moment when she realized that she could look beyond day-to-day survival and have a dream. She decided she was going to go to cosmetology school that day. UP does great work and they are true heroes. Schwab's partnership makes a tremendous difference."
Deborah H., Sr. Manager, Product Management/Marketing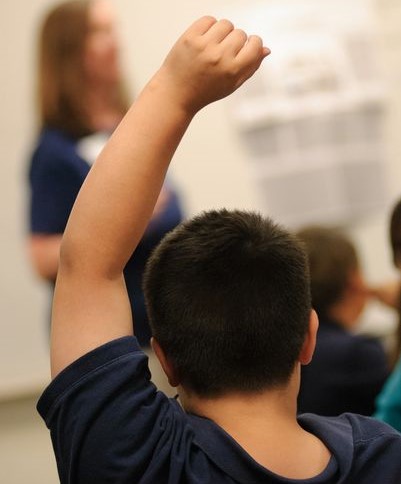 "I decided to use TTV during my first opportunity to participate in Schwab Volunteer Week. Financial literacy is lacking in most public schools' curriculum, yet it has crucial life skills. With the help of volunteers, we have delivered the Moneywise program at a local elementary school for fourth and fifth graders from low-income families. Most students participate in both grades, so the fifth graders get a double dose. These kids are smart and retain most of what was learned. Once as we were covering investment basics, a student expressed, "I like it, I could own a piece of McDonald's". All the class laughed, but I could see the light bulb going off. There's been a lot of talks lately about the wealth gap and I feel providing financial education at a young age will help position these students to make sound financial decisions in the future."