In a continuation of our Benefits Spotlight series, we're joined by Schwabbie Matt B. to discuss his recent trip to Africa while on sabbatical.
One of the many benefits we offer employees is the option to take a paid sabbatical after every 5 years of service at Schwab. This unique perk is designed to promote employee's work/life balance and often serves as a career milestone for dedicated Schwabbies. Keep reading to learn more about this amazing benefit, how it supports employee's wellbeing, and how our very own Matt B. used his time off to gain a new perspective on work, life, and everything in between.
Matt B., a VP Branch Manager at Schwab's Ft. Worth branch, takes the saying "work hard, play hard" to heart. In his 13 years at Schwab, he's worked diligently to better the lives of clients, be an effective leader, and promote the growth of our firm across new areas. But outside of this diverse and impactful career, Matt has an equally impressive travel resume – in fact, he's used his two sabbaticals to embark on exciting journeys across many different countries and cultures. We sat down with him to learn more about his most recent trip to Africa, and how his experiences abroad have enriched his understanding of the world around us.
Let's talk about your first sabbatical – where did you go? Did that adventure influence your most recent trip?
I took my first trip in 2015 and traveled around Asia. I've always been fascinated by the various cultures and food in the area, and finally being able to visit this completely foreign world gifted me a sense of awe and wonderment. I covered a lot of ground on my trip, traveling from Tokyo to Hong Kong, Beijing, Bangkok, Thailand, and finally ended the trip in Cambodia.
I wanted to follow this same format for my travels to Africa, so I approached the sabbatical with the mindset of; let's go somewhere far away, spend a lot of time there, and see as much as we can.
Tell me about your recent sabbatical – why Africa, and were there any moments that stood out to you?
I began mapping out my trip to Africa in 2019 with the intention of climbing Mount Kilimanjaro. Unfortunately, COVID hit in 2020 and I had to postpone both my wedding and the sabbatical. Fast forward to this year, and I was able to re-book the trip with my husband and our newly adopted teenage son! After some debate, we decided to skip the mountain climbing portion of our adventure and focus on visiting as many places as possible.
Now on to the trip itself: Over the 5-week sabbatical, my family and I visited 11 countries, had perspective-changing experiences, and made memories that will last a lifetime. Our adventure began in London, where we went around the city for a day before flying down to South Africa. I've always been interested in Nelson Mandela and his efforts to end apartheid, so getting to actually visit that part of the world was simply incredible. While there, we also went to Cape Town, had amazing food, visited with friends, hiked the beautiful Table Mountain, and even got to see some penguins!
We then went to Botswana and visited Chobe National Park, which has the highest concentration of animals in Africa. While on our safari through the park, we saw tons of gazelles, zebras, lions, hippos, and elephants – the sheer amount of wildlife that surrounded us was absolutely unbelievable.
Our next destination was Victoria Falls, which straddles Zimbabwe and Zambia. We stayed in one of the first established colonial-style hotels in the area and were immersed in its colorful and intriguing history. The views from our room were absolutely breathtaking, and we were even able to get right up to the edge of the falls, which is not something you'd typically get to do here in America!
For me, one of the biggest highlights of our trip occurred when we trekked through the Bwindi Impenetrable forest in Uganda. After making our way through densely forested areas, we came upon a group of massive, wild Gorillas. It's been a childhood dream of mine to see these creatures up close, so having the opportunity to be amongst them in their natural habitat was truly special.
Another notable place we traveled to was Rwanda, and it was so eye-opening to be there and hear stories from people who lived through the tragic events that occurred in the 90's. These harrowing tales really nailed home the concept that peace is a fragile thing, and I was glad that my son was able to see how political rhetoric can influence entire nations, for better or for worse. It was also really inspiring to see the how the current leadership of Rwanda has put the country on an optimistic path toward recovering from a violent past.
From Rwanda, we then embarked on trips to Stone Town in Zanzibar, hot air ballooned over the Serengeti in Tanzania, traversed the wonderfully diverse country of Morocco and learned of their global influence on fragrances, and finally rounded out our trip by staying the night in Spain while on our way back home.
Of the many destinations you visited in Africa, which was your favorite?
It's difficult to pinpoint one single place as my 'favorite'. Visiting with friends in Cape Town and exploring South Africa was a fantastic experience, and I also really enjoyed traveling to Marrakesh in Morocco and learning about their influence on modern scents and fragrances. Of course, seeing Gorillas up close in the Bwindi Forest was a definite highlight for me, and then being able to witness a massive Wildebeest migration over Tanzania's Serengeti from a hot air balloon was truly a once-in-a-lifetime experience.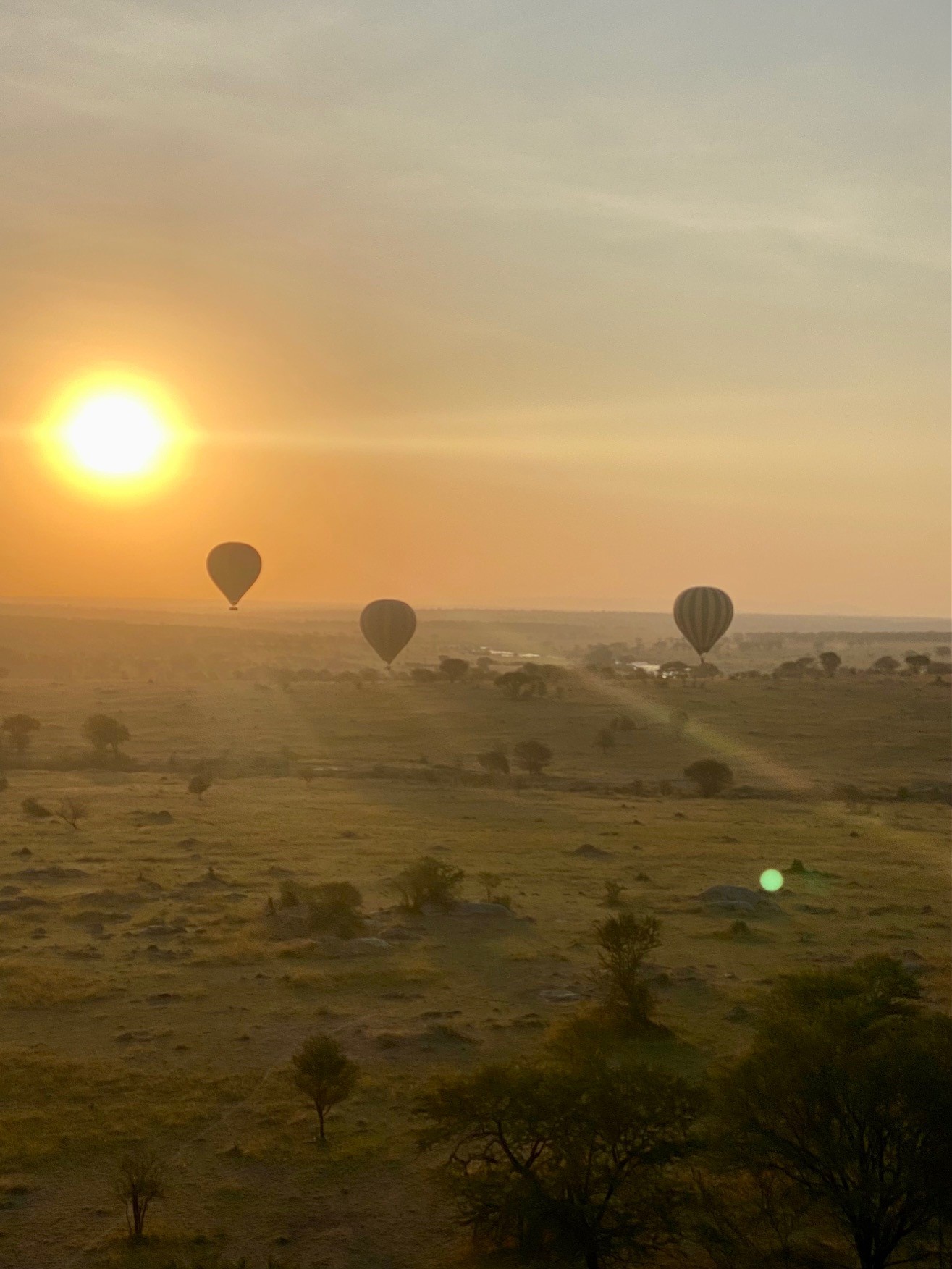 How do you feel after coming back from your trip?
Not only did my family and I come back from this amazing trip energized and refreshed, but we felt as though our travels gave us a new perspective on life. Being able to share in so many significant experiences with my son really grounds a person and helps define what's ultimately important. Also, having my son encounter unique cultures and meet so many different people who had less and were still happy really helped center him as a person – in the end, we all returned home with a different understanding of the world and our place in it.
Do you believe that having the benefit of a paid Sabbatical helped support your wellbeing and work/life balance?
Yes, I do. After having to postpone the trip, I took on a lot of work at home and was also faced with the challenge of taking over a new branch. While I was happy to do it, those things required a lot of energy and effort. My sabbatical came at the perfect time, as it allowed me to disconnect for a while and recharge. Plus, I was able to have amazing experiences with my family and travel to incredible places.
Now that you've been across Asia and Africa, where do you see yourself going for your next sabbatical?
I want to eventually visit every continent on earth, so I proposed we go to Antarctica. However, I think I'm getting the ax on that idea – my husband and son want to travel around Europe, so Europe it is!
(1122-24B4)