Life is full of challenges - a fact that we all are forced to confront nearly every day. But what happens when a seemingly insurmountable hardship comes along and threatens to rob us of our abilities, health, and passions?
For Caryn V., a V.P. Branch Manager at Schwab, the answer is twofold; never give up in the fight to recover and never be afraid to ask for support from the people who care about you.
The accident, and the perspective it brought
While on a trip with her significant other, Caryn lost her footing in the shower and fell – on the way down, she struck her head against the porcelain and tile beneath her. This was the fourth time she had experienced a severe concussion in her life, and the injuries compounded.
Her team of doctors ran test and came back with a grim diagnosis: she had suffered a traumatic brain injury. The initial shock of this news was quickly replaced with concern. As a single mom who supported two children, she knew the road ahead would be filled with uncertainty.
"During my early recovery, I had to take significant time off of work. Simple things like using my computer, or taking phone calls, or any of the small tasks we usually take for granted, were simply too much for me to handle. I love what I do for a living, so the idea that I'd potentially have to get a new job was both upsetting and scary."
Despite this newfound uncertainty about her personal and professional future, Caryn made the choice to find a silver lining amongst the challenges that stood in her way. As she continued her physical therapy and recovery regiment, she began to view the ailment in a new light.
"There will always be challenges we face, but we can also control how we respond.
Some of these challenges provide an awakening by bringing us the growth we need to become better versions of ourselves. This realization propelled me to work toward getting back to this job that I'm so passionate about, and to give myself grace and be present in the moment moving forward."
Returning to work while leaning on Schwabbies and family for support
Armed with a new perspective and the will to regain her old life back, Caryn pressed forward with her plan to return to work. She reached out to coworkers and family for help with this process, and the subsequent support she received empowered her to stay on the path to recovery.
"As I began my return-to-work program and eased back into reality, I was incredibly thankful for the amazing company I work for – one that supports me by providing the time needed to heal and recover, as well as my caring and thoughtful team, of whom I feel is part of my family."
It's no secret that Schwab champions creating a positive and inclusive work environment that supports the success of our people. When put into practice, this principle also creates a team-like atmosphere where everyone works together to achieve larger goals. That's why it comes as no surprise that, as Caryn was making progress returning to work, her leader and team heavily collaborated in order to help make the transition as smooth as possible.
"You don't really plan for these situations. We help our clients plan for the unknown, but when it happens to ourselves, or our team, how do we respond? My answer was to commit to doing my best and continuing to lean on the support of my peers and leaders. Not only was my leader in full communication with me every step of the way, but she put in the effort to learn with me as we went along with my return-to-work plan. My team was also willing to invest their time and energy into assisting me until I could come back full-time, which I was incredibly grateful for."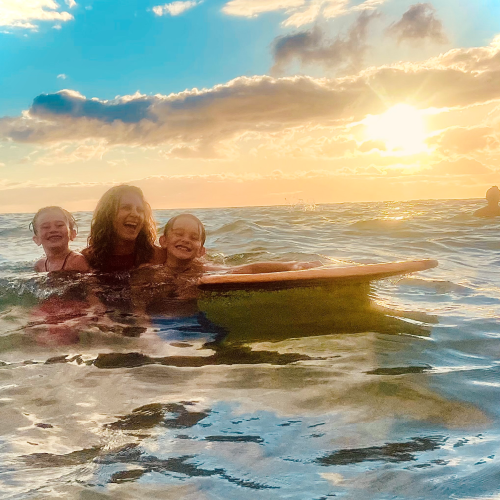 Why Caryn is so passionate about her work
One of the key factors that drove Caryn to persist in her recovery journey was the desire to get back to doing the work she loves – serving clients by helping them create a better financial future. As someone with an innate passion for service to others and a natural ability to form meaningful connections with her clients, Caryn was eager to get back into her impactful role at our firm.
"Money is an emotional investment. When you have the natural talents and abilities to uncover the driving force behind wealth management decisions, then you're never actually selling anything. You're finding a common ground and striving to understand the story behind each client and their financial goals. That's what I'm really passionate about – I'm truly intrigued by my client's stories, and making that connection helps me serve them and get them on the path toward reaching their financial goals."
Caryn's takeaways from her harrowing recovery
Now further down the road to normalcy, Caryn is able to look back and reflect upon the lessons she learned while in recovery. After being supported throughout her return-to-work program by fellow Schwabbies and family members, showing bravery and resilience in the face of adversity, and learning how to give herself grace and appreciate the present, she had this to say about the ordeal:
"Take the time to enjoy the simple pleasures around you, don't miss out on this life you're living. Feel each moment to its fullest and love each incident that has shaped you. Work to make your greatest impact every day in whatever you do - and when you find that you aren't at your best, remember to recognize the growth you've experienced over the course of your journey. We are all in this together, and together we can find the best versions of ourselves and make the world a better place."
(1122-2PD7)
A Culture of Support: Caryn V.'s Journey to Recovery
By: Beau H., Content Manager
View current opportunities on our service team!
View All