25 for 25 Challenge
By Jamie Fox, Manager, Talent Acquisition
This February, Charles Schwab Abilities Network (CSAN) and Military Veteran Network (MVN), two of our 11 Employee Resource Groups at Schwab, jointly presented a mindful challenge to Schwabbies entitled the 25 for 25 Challenge. This challenge asked participants to commit to spending 25 minutes a day focusing on self-care for 25 days during the month of February.
The "25" signifies the number of suicides committed every day among military members and veterans in the U.S. 25 for 25 is a way to bring awareness to post-traumatic stress disorder (PTSD), overall mental health, anxiety, and depression that can lead to suicide. By participating in this event, Schwabbies brought awareness around mental health, helping to normalize conversations around mental health, and creating safe spaces for us to ask for help when we need it. Activities in the campaign included physical exercise, reading, meditation, and self-reflection.
Over 370 Schwabbies participated in the challenge over the course of the month, fostering a strong sense of community, support, and increased awareness of this incredibly important subject that affects so many in different ways. I had the chance to connect with two participants who went above and beyond, logging over 3,000 minutes within the 25 days (exceeding the challenge goal of logging 25 minutes per day), to learn a bit about what this challenge meant to them.
Lovella H., Senior Business Systems Analyst with Schwab's Service Management Solutions organization, shares that she has participated in almost every wellness challenge, as health and wellbeing are very important to her: "I think it's important that people take time out for themselves. During this pandemic, it's especially important that you take that time. I do a lot of walking; I like being outside. It allowed me to see my neighbors, say hello, have conversations with people in that safe, social-distanced situation we are all in."
When asked what prompted Lovella to go above and beyond in the challenge, landing her in the top 10 of all participants, she shares that this actually wasn't out of the ordinary for her. "I average 11,000 steps a day. I have a morning routine that I go through every single day; I do calisthenics and stretching, I do YouTube workouts, and then I walk my dog. Statistically, you're more successful if you exercise in the morning because everybody gets busy and things get in your way. That's why I have always had a bit of a morning routine. It's become easier with working remotely to fit that in because I don't have that commute time."
Lovella appreciates the diversity of Schwab and that "you can be accepted for who you are." She shares that "there are various ways you can plug in at Schwab. Even during the pandemic—I just love the culture. If you do have some sort of disability or struggle with mental health issues, there is a place for you at Schwab."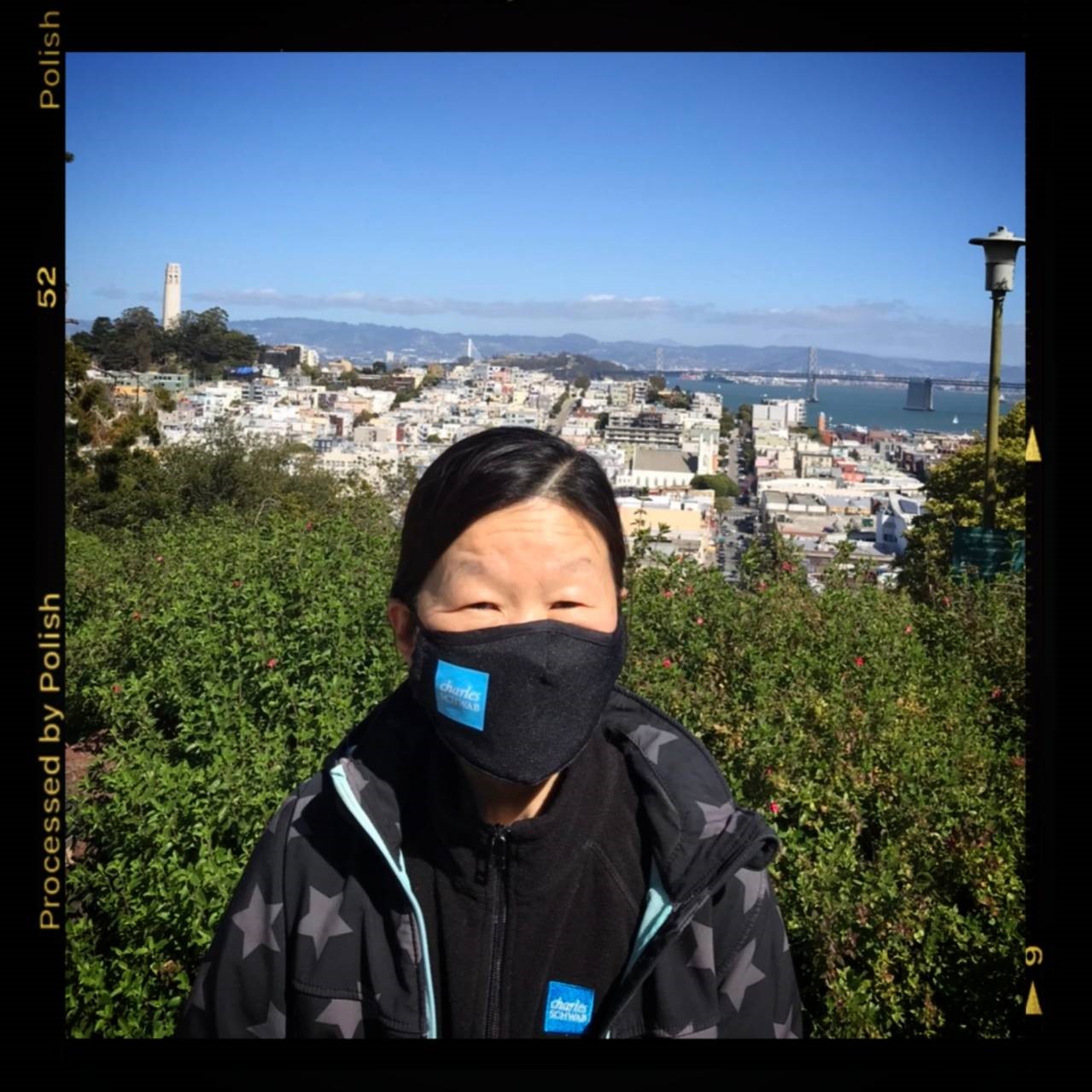 I also had the chance to sit down with Serena C., Client Relationship Manager (CRM) in our San Francisco Branch Network. Serena has been with Schwab for 20 years, 15 of which have been dedicated to the Branch Network. She acts as the CRM for three branches—our California Street, Presidio Heights, and Main Street offices. Being primarily at the Main Street branch, Serena is able to feel very connected to people and initiatives beyond the Branch Network and shares that this has played a part in her increasing awareness of, and involvement in, the Employee Resource Groups at Schwab. Covering three branches in close proximity to each other also allows Serena to seamlessly integrate exercise into her day-to-day; she shares that she often will simply walk to her branches.
Serena also encourages others to integrate simple exercise into their daily routines in a similar way: "You shouldn't even need to go to the gym—you can just build it in. If you take the bus, maybe it means getting off at an earlier stop to walk the rest of the way; so things like that where you become a winner either way."
The 25 for 25 Challenge was particularly significant to Serena as she considered it a part of her path to recovery. Last year she was diagnosed with early-stage breast cancer in the midst of the pandemic. She shares, "Part of the reason I'm walking right now is that I didn't want to be classified as a 'patient.' The best part about Schwab is we treat everybody normally. They're not going to label you if you have a disability or a medical condition—everybody is treated equally. We see you and what you're able to accomplish and that's what's important."
The sense of community and support that this challenge provided was very impactful for Serena. "I had my surgery in April last year and I was on medical leave for a month. Some of my peers would invite me to continue to walk; I told them when I am walking with them again, it means I am in recovery. That's part of the motivation—so many people are behind you. That's what Schwab is all about—everyone is supporting you in different ways. Even being on Fitbit together and sharing the invitation to walk. That's how I viewed the 25 for 25 Challenge—as people supporting me. And I want to show my support and do the best I can because I had this opportunity. I did it out of respect, out of honor. I walk to support the cause, to support the ERGs, and also to challenge myself. For me, it's just a win-win situation. Once you get started, you realize, 'I can do this. I can commit to this.'"