We can move an entire industry forward when we lead the way together.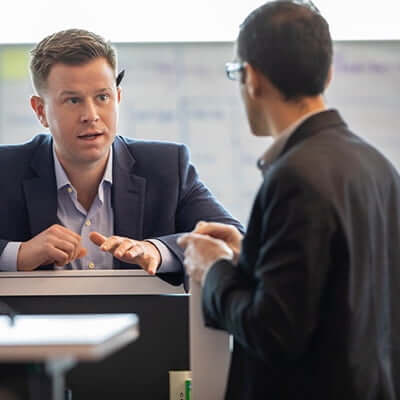 Sr. Specialist, Software Development & Engineerin
Westlake, Texas
Requisition ID 2023-94477
Category Engineering & Software Development
Position type Regular
Salary USD $102,357 - $160,800 / Year
Your Opportunity
At Schwab, you're empowered to make an impact on your career. Here, innovative thought meets creative problem solving, helping us "challenge the status quo" and transform the finance industry together.
Designs and develops software solutions and business process solutions based on business needs and requirements using specialized domain knowledge and developed business expertise. Develop web service RESTful APIs supporting web, mobile and third-party applications featuring rich client experiences with images, performance charting and account preference management. Implement an extensible data model to capture and persist client account customizations including index selection, stock exclusions, industry filters, and security attribute scoring among others. Contribute to building integration testing framework across Managed Accounts technology to drive consistency in software development. Perform engineering work with domain partners to coordinate transmission and persistence of key data elements captured in existing systems. Contribute to the overall success of a highly functional scrum team within the WAM Engineering organization.
Position allows for 100% remote work. Reports to company HQs in Westlake, TX. Subject to Schwab's internal approach to workplace flexibility.
What you have
Job Requirements: Bachelor's degree in Computer Science, Engineering (any), or related field. Requires 3 years of related experience which, must include some experience in each of the following skills: Develop full stack software applications in agile for Managed Accounts within the financial services industry; Direct indexing development regarding tax benefit calculation methodology; Direct indexing tracking error calculation; Develop RESTful API web-services with authentication requirement delivering client facing data; Java Springbatch Framework development; and.NET Core development.
Charles Schwab & Company, Inc. seeks Sr. Specialist, Software Development & Engineering in Westlake, TX.
What's in it for you
At Schwab, we're committed to empowering our employees' personal and professional success. Our purpose-driven, supportive culture, and focus on your development means you'll get the tools you need to make a positive difference in the finance industry. Our Hybrid Work and Flexibility approach balances our ongoing commitment to workplace flexibility, serving our clients, and our strong belief in the value of being together in person on a regular basis.
We offer a competitive benefits package that takes care of the whole you – both today and in the future:
401(k) with company match and Employee stock purchase plan
Paid time for vacation, volunteering, and 28-day sabbatical after every 5 years of service for eligible positions
Paid parental leave and family building benefits
Tuition reimbursement
Health, dental, and vision insurance
Eligible Schwabbies receive
Medical, dental and vision benefits

401(k) and employee stock purchase plans

Tuition reimbursement to keep developing your career

Paid parental leave and adoption/family building benefits

Sabbatical leave available after five years of employment
You have no recently viewed jobs