We can move an entire industry forward when we lead the way together.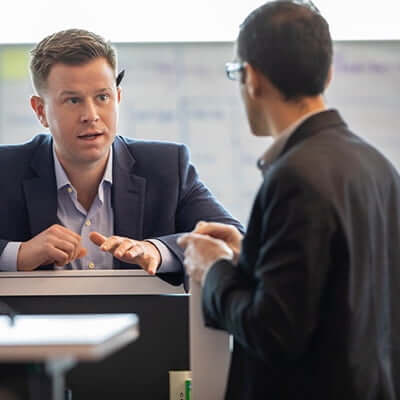 Sr Manager, Software Development & Engineering
Westlake, Texas
Requisition ID 2023-95880
Category Engineering & Software Development
Position type Regular
Salary USD $139,464 - $246,800 / Year
Your Opportunity
At Schwab, you'reempowered to make an impact on your career. Here, innovative thought meets creative problem solving, helping us "challenge the status quo" and transform the finance industry together.
Research, design, and develop computer and network software or specialized utility programs. Analyze business scope and requirements for the migration of legacy-based broker dealer settlement application into a web-based application onto cloud premise. Convene with Schwab business users to understand requirements for new initiatives under settlement application and document them. Preparing and update the templates for functional specification review, code review, and test case review. Partner with scrum team members, provide technical guidance, and work closely with QA Automation teams to create and update Agile Test Automation Suite for settlement application. Plan and review new development, maintenance, or enhancement requests from business. Create the roadmap of technology, milestone-based planning, technical designs, impact analysis, and feasibility study with proof of concept. Collaborate with team to assist in programming, debugging, and problem solving. Participate in technical discussions to provide the best possible solution for business user requests.
Position allows for partial remote work (2-3 times in the office). Must live within reasonable commuting distance. Reports to company office in Westlake, TX, Subject to Schwab's internal approach to workplace flexibility.
What you have
Requires Bachelor's degree in Information Systems, Electronics Engineering or related field and 5 years of progressive, post-bachelor's experience which must include some experience in the following skills: COBOL, JCL, DB2, DATACOM, CICS, Easytrieve, and VSAM; IBM MQ and Kafka; Architecting, designing, and developing broker dealer applications; Create web services using SOAP and Restful protocols; and Broker dealer settlement applications.
Charles Schwab & Company, Inc. seeks Sr Manager, Software Development & Engineering in Westlake, TX.
What's in it for you
At Schwab, we're committed to empowering our employees' personal and professional success. Our purpose-driven, supportive culture, and focus on your development means you'll get the tools you need to make a positive difference in the finance industry. Our Hybrid Work and Flexibility approach balances our ongoing commitment to workplace flexibility, serving our clients, and our strong belief in the value of being together in person on a regular basis.
We offer a competitive benefits package that takes care of the whole you – both today and in the future:
401(k) with company match and Employee stock purchase plan
Paid time for vacation, volunteering, and 28-day sabbatical after every 5 years of service for eligible positions
Paid parental leave and family building benefits
Tuition reimbursement
Health, dental, and vision insurance
Eligible Schwabbies receive
Medical, dental and vision benefits

401(k) and employee stock purchase plans

Tuition reimbursement to keep developing your career

Paid parental leave and adoption/family building benefits

Sabbatical leave available after five years of employment
You have no recently viewed jobs