We can move an entire industry forward when we lead the way together.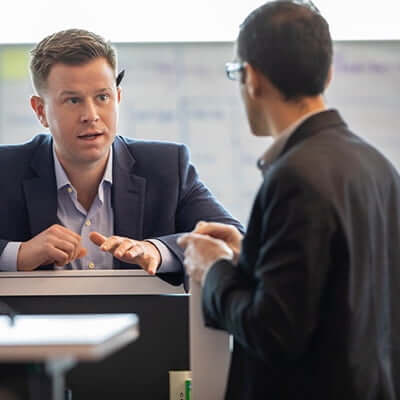 Manager, Software Development & Engineering
Westlake, Texas
Requisition ID 2023-94475
Category Engineering & Software Development
Position type Regular
Salary USD $134,992 - $214,700 / Year
Your Opportunity
At Schwab, you're empowered to make an impact on your career. Here, innovative thought meets creative problem solving, helping us "challenge the status quo" and transform the finance industry together.
Analyze, design, program, debug, configure and modify software systems and/or new products used in local, cloud, networked, mobile or Internet-related technology for Digital Self Services Technology applications with the goal of achieving Maintainability, Availability, Scalability, and Security. Pursue strong engineering practices through a culture of continuous improvement. Complete documentation for tech specs. Interact with users to define system requirements and/or necessary modifications. Follow the principles of agile and focus on incremental delivery. Actively participate in product and technology focused social and learning events. Collaborate with product owners and business partners to define strategy and scope of software requirements (decompose narratives, design features, and prioritize tasks). Deliver new concepts and features, working alongside development peers in an agile environment. Utilize automated software test tools and frameworks including test driven development to achieve the highest quality in software delivery. Support integration efforts to build whole systems from various subsystems. Identify technology risks early and establish mitigation plans. Assisting with introduction of new technologies by implementing Proofs of Concepts (PoC). Understand advocating and augmenting the platform principles, guidelines, and standards. 
Must be available to work in office one day a week. Work from home is acceptable four days a week.Subject to Schwab's internal approach to workplace flexibility.
What you have
Job Requirements:Bachelor's degree (or foreign degree equivalent) in Computer Science or related field and five (5) years of progressive, post-baccalaureate experience in front-end (UI) and API development or in the job offered or related role. Alternatively, employer will accept Master's degree and 3 years of experience in front-end (UI) and API development or in the job offered or related role. Employer will accept any suitable combination of education, experience or training Skills: Experience and/or education must include: C#/.NET Core development; Angular, TypeScript, and client side MV* frameworks - as well as - JavaScript, HTML and CSS; Responsive Design and Single Page Applications (SPA) and Proficiency in creating and consuming RESTful services; Unit testing patterns (TDD/BDD), tools and methodologies; Authorization frameworks (e.g., OAuth 2, SAML, JWT); and Application performance evaluation and tuning skills.
Charles Schwab & Company, Inc. seeks Manager, Software Development & Engineering in Westlake, TX
What's in it for you
At Schwab, we're committed to empowering our employees' personal and professional success. Our purpose-driven, supportive culture, and focus on your development means you'll get the tools you need to make a positive difference in the finance industry. Our Hybrid Work and Flexibility approach balances our ongoing commitment to workplace flexibility, serving our clients, and our strong belief in the value of being together in person on a regular basis.
We offer a competitive benefits package that takes care of the whole you – both today and in the future:
401(k) with company match and Employee stock purchase plan
Paid time for vacation, volunteering, and 28-day sabbatical after every 5 years of service for eligible positions
Paid parental leave and family building benefits
Tuition reimbursement
Health, dental, and vision insurance
Eligible Schwabbies receive
Medical, dental and vision benefits

401(k) and employee stock purchase plans

Tuition reimbursement to keep developing your career

Paid parental leave and adoption/family building benefits

Sabbatical leave available after five years of employment
You have no recently viewed jobs