We can move an entire industry forward when we lead the way together.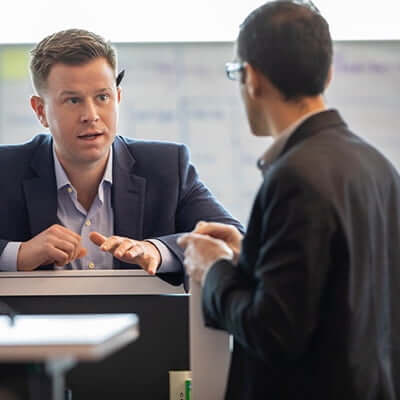 Financial Consultant Partner – Reston, VA
Reston, Virginia
Requisition ID 2023-94723
Category Retail Branch
Position type Regular
Salary USD $58,400 - $96,300 / Year
Your Opportunity
This position is part of the Branch Network which is primarily responsible for providing Wealth Management to individuals and families to meet their financial needs. In partnership with the Sr. Financial Consultant (FC), the Financial Consultant Partner will support the growth and management of an affluent wealth management practice. This includes servicing clients, growing client relationships, and delivering advice with the practice clients of the Sr. Financial Consultant. The Financial Consultant Partner will help grow the practice by partnering with their Sr. FC to pursue business development opportunities.
To learn more about our client offerings visit: Charles Schwab - Investor Services
What you have
As a Financial Consultant Partner at Charles Schwab, you will operate in a team-based model partnered with one to three Sr. Financial Consultants. In a team-based model, tasks can be completed as advised by your Sr. Financial Consultant(s), in partnership with, or independently with check-ins:
Provide direct, dedicated support for Sr. Financial Consultant(s) and their practice clients.

Work with existing practice clients via inbound, proactive and follow-up phone calls, and email as well as face to face interactions.

Deepen new and existing client relationships by proactively and reactively uncovering additional business development opportunities and in partnership with your Sr. Financial Consultant(s) to close the business.

Provide advice to include suitability, recommendations, and planning for practice clients in partnership with your Sr. Financial Consultant(s).

Build, refresh, and deliver financial plans for practice clients in partnership with your Sr. Financial Consultant(s).

Update and compile client information through Schwab's internal customer relationship management (CRM) tool.

Identify leads and proactively generate ideas to connect with clients and prospects.

Set and prepare for appointments, e.g., review planning status, life events, suitability updates.

Lead and perform activities in preparation for, and following, client appointments with designated Sr. Financial Consultant(s).

Lead local event administration including venue identification, scheduling, contract negotiation, invitation creation, attendance confirmation, development of client presentations, and follow-up post-event with clients and prospects.

Support the business development and relationship building activities of the Sr. Financial Consultant(s) by following up on referrals and engaging with prospective clients.

Bring to bear key business partners (Partner Support & Pinnacle) to resolve, research, and respond to client inquiries and issues as well as ensure operational tasks are completed.

Partner with Sr. Financial Consultant(s) to ensure we are providing an outstanding experience for clients ultimately improving client promoter score for the branch.

Participate in or conduct the initial client on-boarding process.

Assist Sr. Financial Consultant(s) with client segmentation and client engagement blue prints; use Connect mailings, branch workshops, as well as regional/national events.
Required minimum skills and qualifications are:
A valid and active Series 7 license is required (license may be obtained under a condition of employment through Branch Network Licensing Program)

A valid and active Series 66 (63/65) license required (license(s) may be obtained under a condition of employment)

3 years of experience in the financial services industry preferred

Results driven, highly motivated self-starter who possesses integrity, a strong work ethic and a passion for helping clients

Strong written and verbal communication skills

Shown track record to handle several tasks simultaneously and effectively prioritize

Skills for, and experience in, identifying new relationship development

Show a genuine curiosity about staying current on market events and ability to understand the implications for clients

Ability to uncover and meet client needs and effectively manage client expectations

Ability to build and maintain good cross-enterprise working relationships

Responsible for understanding and aligning with applicable policies and procedures and applying ethical standards to every business activity in which they engage

Maintain the highest ethical standards in the conduct of their business activities and professional dealings and to avoid even the appearance of impropriety

There is a minimum time-in-position expectation of 2 years

May be asked to become a Notary
Pursuant to SAFE Act requirements, all employees engaged in residential loan mortgage originations must register with the NMLS registry system and remain in good standing. You will be required to register and to submit to the required SAFE Act background check and registration process.
In addition to the salary range, this role is also eligible for bonus or incentive opportunities.
What's in it for you
At Schwab, we're committed to empowering our employees' personal and professional success. Our purpose-driven, supportive culture, and focus on your development means you'll get the tools you need to make a positive difference in the finance industry. Our Hybrid Work and Flexibility approach balances our ongoing commitment to workplace flexibility, serving our clients, and our strong belief in the value of being together in person on a regular basis.
We offer a competitive benefits package that takes care of the whole you – both today and in the future:
401(k) with company match and Employee stock purchase plan
Paid time for vacation, volunteering, and 28-day sabbatical after every 5 years of service for eligible positions
Paid parental leave and family building benefits
Tuition reimbursement
Health, dental, and vision insurance
Eligible Schwabbies receive
Medical, dental and vision benefits

401(k) and employee stock purchase plans

Tuition reimbursement to keep developing your career

Paid parental leave and adoption/family building benefits

Sabbatical leave available after five years of employment
You have no recently viewed jobs