We can move an entire industry forward when we lead the way together.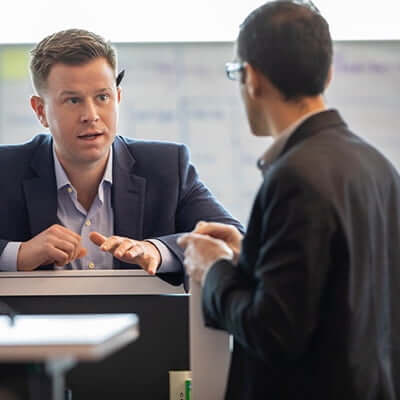 Omaha - Client Services Part- Time Internship - January 22, 2024
Omaha, Nebraska
Requisition ID 2023-94975
Category Customer Service / Client Service
Position type Intern (Trainee)
Salary USD $18,720 - $18,720 / Year
Your Opportunity
At Schwab, you're empowered to make an impact on your career. Here, innovative thought meets creative problem solving, helping us "challenge the status quo" and transform the finance industry together.
Are you looking for a meaningful part-time internship that professionally develops students like yourself? If so, the Aspiring Talent Academy is the right opportunity for you. The Academy is part of our Client Service department and teaches the C.A.R.E.E.R.S curriculum - Collaboration, Academic, Real-world Education & Experience, Roundtables & Shadowing. Key features of the program are team building activities, assisting clients by answering inbound calls, personal development resources, participating in a simulated trading competition using our internal trading platform, and a final presentation to internal stakeholders.
The Aspiring Talent Academy aligns with individuals who are passionate about providing excellent customer service, receiving sophisticated training on the financial industry, learning about emotional intelligence, and collaborating with peers.
The compensation for this position is $18.00/hour.
What you have
Early Talent are the future leaders of Charles Schwab, so come join Schwab to see the difference you can make.  
Required qualifications:
Enrolled in a university program anticipated to graduate between May 2024 - December 2024
Ability to work on-site in Omaha, NE
Ability to work 20 hours on-site at one of the Schwab service center locations the following times:

Monday – 8am to 4:30pm
Wednesday – 8am to 4:30pm
Friday – 8am to 12pm
Preferred qualifications:
Engaging presence with the courage to ask "why"
A strong desire to learn about the Financial Services Industry and grow your career within it
Embraces a client centric approach while helping investors with their wealth management needs
Excellent written and verbal communication skills with attention to detail
Has a resourceful, strategic, and optimistic mentality
Openness to collaboration
Capable of performing in a fast-paced and changing environment
What's in it for you
At Schwab, we're committed to empowering our employees' personal and professional success. Our purpose-driven, supportive culture, and focus on your development means you'll get the tools you need to make a positive difference in the finance industry.
You have no recently viewed jobs