We can move an entire industry forward when we lead the way together.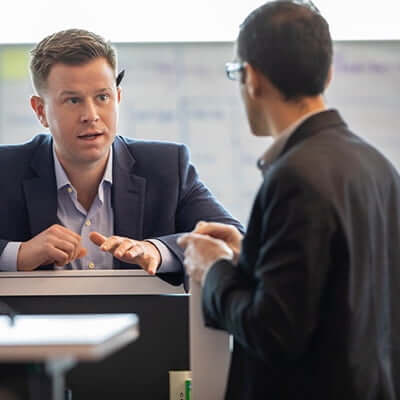 2024 Charles Schwab Financial Service & Support Internship - Omaha, NE
Omaha, Nebraska
Requisition ID 2023-94177
Category Internship
Position type Intern (Trainee)
Salary USD $33,280 - $34,320 / Year
Your Opportunity
At Schwab, you're empowered to make an impact on your career. Here, innovative thought meets creative problem solving, helping us "challenge the status quo" and transform the finance industry together.
Throughout the 9-week paid Client Service & Support internship, there will be inspiring opportunities that welcome you into the Schwab culture and immerse you into your role. The interactive internship program focuses on a variety of opportunities which feature a business track project, an intern cohort project, learning activities, volunteering in the community, a dedicated intern leader, networking, and exploring your unique personal strengths! As you embody exceptional customer service, you will learn about the C.A.R.E.E.R.S curriculum - Collaboration, Academic, Real-world Education & Experience, Roundtables & Shadowing. Within the Service department specifically, you will engage in team building activities, assist clients by answering inbound calls, leverage personal development resources, participate in a simulated trading competition using our internal trading platform, and a final presentation to internal stakeholders.
Come "challenge the status quo" for the Summer of 2024 and learn what is means to be the next generation of Schwab change makers!
What you have
As an intern, it's not about what you know, it's about what you are willing to learn. We're seeking passionate students who are ready to own their Early Talent career and have the courage to ask "why".
Required Qualifications
Enrolled in a current undergraduate or graduate program tracking to graduate between August 2024 and June 2025
Ability to work full time and be on-site at one of the Schwab locations during the 9-week program (June 3 to August 2, 2024)
Preferred Qualifications
Desire and motivation to take the FINRA SIE
Strong desire to explore a career at Schwab by beginning in a Financial Services professional role post-graduation
Passion for learning about the Financial Services Industry and helping investors with their wealth management needs
Ability and desire to network by taking a client-focused sales approach
Optimism with keen sense of purpose, awareness, and knowledge
Resourcefulness and flexibility, who enjoy working through cross-functional partnerships and collaboration to achieve a common purpose

Strong written and verbal communication skills to interact with internal business partners
What's in it for you
At Schwab, we're committed to empowering our employees' personal and professional success. Our purpose-driven, supportive culture, and focus on your development means you'll get the tools you need to make a positive difference in the finance industry.
You have no recently viewed jobs