We can move an entire industry forward when we lead the way together.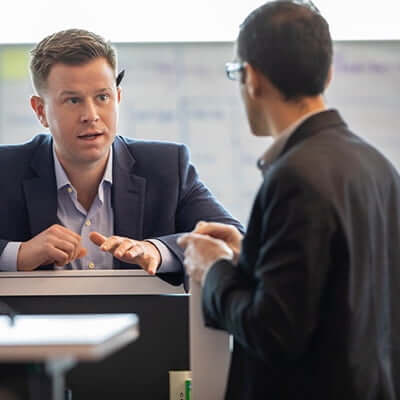 Service Associate - Schwab Wealth Advisory
Lone Tree, Colorado
Requisition ID 2023-94930
Category Financial Planning
Position type Regular
Salary USD $60,000 - $90,000 / Year
Your Opportunity
Investor Advice Solutions consists of Schwab Wealth Advisory, Centralized Service & Operations and Wealth Strategies Consulting Group. Schwab Wealth Advisory is a premier, fee based and non-discretionary investment advisory solution providing clients with a personal relationship, specialized service and ongoing advice built on Schwab's approach to investing. The Centralized Service & Operations group supports Fixed Income and Schwab Wealth Advisory clients as the client facing phone teams. The Wealth Strategies Consulting Group addresses complex wealth management needs of clients through our Planning and Wealth Strategy teams. Additionally, they provide specialized products to meet income generation, risk mitigation, and liquidity needs.
As a Service Associate, you will deliver premium service in wealth management to our high-net-worth clients through inbound calls.
We value integrity, open communication, strong market knowledge, and a passion for client service. If you want to work with a firm that is dynamic, client focused, invests in your growth, and values your contributions, consider a career as a Service Associate. 
What you have
As a Service Associate, you will be a part of a fast-paced environment on a small, highly reciprocal team of 10-15 professionals. You will play an integral role to the success of Schwab Wealth Advisory by servicing our premier clients virtually via inbound calls. You will be responsible for delivering extraordinary and consistent service experiences, providing technical assistance, placing solicited trades, and strengthening client relationships. You will leverage your client facing experience to provide resolutions on foundational questions regarding portfolio management, financial planning, and financial markets/economy.
This opportunity will allow you build a strong foundation in wealth management and sets you on the path to becoming a Wealth Advisor. Your manager will be focused on your professional development through coaching and ongoing training to prepare you for the next opportunity in Schwab Wealth Advisory.
Other areas where you will maintain and grow your competencies:
Customer Orientation

: Provide white glove service through strong problem resolution and anticipating client needs to result in first contact resolution.
Exceptional Oral and Written Communication:

Highly effective communication skills and the ability to articulate our approach to advice, portfolio construction, and planning.
Thoroughness:

Strong acumen for service accuracy and client follow up. Proactively leverage tools and resources within their problem-solving process. Strong accuracy in placing trades with minimal errors.
Building Collaborative Relationships

: Ability to connect with others in a way that fosters trust and creates collaborative relationships; Must be able to develop and maintain good cross departmental working relationships.
Fostering Teamwork

: Ability to collaborate and support team members through a relational work style. Ability to work independently and effectively as part of a team, while handling multiple tasks and responsibilities simultaneously.
We place a premium on high performance, quality service and the ability to contribute to the SWAI strategy. Essential skills include:
Active and valid FINRA Series 7 license required

Active and valid FINRA 66 licenses required (may be obtained with a 120-day COE)

Minimum 1 year of experience in the financial services industry

Experience servicing high-net-worth clients preferred
In addition to the salary range, this role is also eligible for bonus or incentive opportunities.
What's in it for you
At Schwab, we're committed to empowering our employees' personal and professional success. Our purpose-driven, supportive culture, and focus on your development means you'll get the tools you need to make a positive difference in the finance industry. Our Hybrid Work and Flexibility approach balances our ongoing commitment to workplace flexibility, serving our clients, and our strong belief in the value of being together in person on a regular basis.
We offer a competitive benefits package that takes care of the whole you – both today and in the future:
401(k) with company match and Employee stock purchase plan
Paid time for vacation, volunteering, and 28-day sabbatical after every 5 years of service for eligible positions
Paid parental leave and family building benefits
Tuition reimbursement
Health, dental, and vision insurance
Eligible Schwabbies receive
Medical, dental and vision benefits

401(k) and employee stock purchase plans

Tuition reimbursement to keep developing your career

Paid parental leave and adoption/family building benefits

Sabbatical leave available after five years of employment
You have no recently viewed jobs