We can move an entire industry forward when we lead the way together.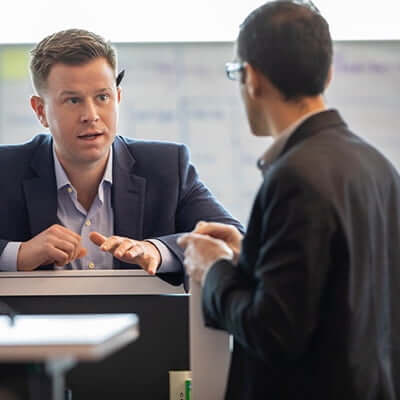 Financial Planner - Centralized Planning Group
Lone Tree, Colorado
Requisition ID 2023-94933
Category Financial Planning
Position type Regular
Salary USD $100,000 - $130,000 / Year
Your Opportunity
We believe that, when done right, investing liberates people to create their own destiny. We are driven by our purpose to champion every client's goals with passion and integrity. We respect and appreciate the diversity of our employees, our clients, and the communities we serve. We challenge conventions strategically to bring value for our clients, our firm and the world. We live and bring to life the concept of 'own your tomorrow' every day. We champion our employee strengths, guide their development, and invest in their long-term success. We hire optimistic, proactive, results-oriented, curious, innovative, and adaptable people with the desire to help our clients and one another succeed.
As a company, we were established by Chuck over 40 years ago to champion Main Street over Wall Street, and to help Americans transform themselves from earners to owners. Through advocacy and innovation, we work to make investing more affordable, accessible and understandable for all. As we enter our fifth decade, we are looking for dedicated, innovative and driven people who believe they can help themselves, and our clients, create a better future.
Fundamentally, we believe all investors should have access to advice and financial planning without compromise and without the high cost typically associated with these services. We help clients achieve their financial goals through proactive wealth management solutions built upon a financial plan and using a rigorous investment methodology. With a focus on inspiring client loyalty and a commitment to employee engagement through career development, we support clients and employees in reaching their goals.
This position is part of a team of experts who deliver planning guidance and advice to our clients virtually. Our teams are dedicated to making a difference through the power of planning. We connect, deeply understand and paint a picture of what's possible regarding our clients financial lives. As Fiduciaries, we bring expertise across the 13 Wealth Management topics in conjunction with powerful technology to inspire clients to take action and own their financial legacies.
What you have
As a Financial Planner at Charles Schwab, you will partner with clients to understand their goals, wishes, and concerns so that they can successfully plan their financial future. As a Financial Planner you will work with clients to provide confidence and clarity regarding their overall financial lives and provide actionable recommendations that will benefit and help strengthen their overall plan.
Planning
Quickly build rapport with clients and conduct discovery conversations to better understand their holistic financial needs. Demonstrate the value and importance of partnering with a CFP® professional on an ongoing basis

Partner with clients to create, review and refine their overall financial roadmap and deliver their personalized financial plan

Provide ongoing support for our clients beyond the initial appointment, including updating their financial plan to reflect changes in life and financial circumstance and determining the client's ongoing appropriateness for the recommended investment allocation solution.
Client Development
Recommend and subsequently enroll clients into specific portfolio(s) based on the client's individual plan and personal needs.

Apply a planning-based, consultative approach to assess and determine appropriate solutions to meet client's goals and needs.

Collaborate with other organizations within the firm to create partnerships that help identify clients that would benefit from these services
Time management / organization / ability to utilize new technologies
Proven ability to manage multiple tasks and priorities to ensure that an accurate final plan is delivered to each client/prospect in a timely manner

Proactive management of schedule and appointments for clients related to their initial, follow up and annual review planning conversations

Ability to coordinate meetings and presentations with business partners and clients

Conduct follow-up appointment activities and connect clients with internal Schwab specialists or departments.
Additionally, you will have the opportunity to:
Be part of a team that is on the forefront of how financial planning and investment advice is delivered to clients using our technology and digital capabilities

Be part of a fast-paced environment where you will work on a highly collaborative team of 10-12 professionals with a supportive manager focused on your professional development and coaching to achieve your long-term career aspirations

Learn from a variety of mentors, coaches and leaders that are focused on you and your career at Schwab

Demonstrate a strong passion for planning, understanding of the markets, empathy, energy, and problem solving while delivering unparalleled value and outstanding service to our clients.

Uncover development opportunities to further deepen our clients' overall relationship with Schwab
We place a premium on high performance, quality service and the ability to implement our strategy. Essential skills include:
CFP® designation is required

Bachelor's Degree required

Active FINRA Series 7, may be obtained with 120 day COE

Active FINRA Series 63/65 or 66, may be obtained with 120 day COE

Preferred: Insurance licensing

Prefer a minimum of 3 years of financial services experience

Passion for financial planning as a way to help clients manage their financial futures and build stronger relationships with clients

Ability to articulate the value and importance of financial planning services

Knowledge and ability to move clients through complete and complex financial planning cycle

Ability to work effectively with internal and external partners to address clients/prospects financial needs and goals.

Excellent communication skills and ability to effectively communicate complex topics to clients.

Strong client services skills and ability to anticipate and resolve problems on own initiative.

Embrace an entrepreneurial and self-starter attitude

Able to quickly learn new technology and use a variety of data and systems in order to proactively identify solutions to client financial needs.

Strong analytical skills and attention to detail in order to adhere to policies, procedures and guidelines.

Proven work ethic with a high level of integrity to build trust with our clients and internal partners

Collaborative and relationship-focused work style with demonstrated success in a team based environment.

Open to ongoing coaching and development to achieve positive client outcomes and achieve professional career aspirations
What you'll get:
Everyday Wellness: Healthy Rewards, Onsite Fitness Classes, Healthy Choices, Wellness Champions

Financial Fitness: 401k Match, Employee Discounts, Personalized advice, Brokerage discounts, Health/Dental/Vision plans

Work/Life Balance: Sabbatical, New Mothers returning to work Program, Tuition Reimbursement Programs, Time off to volunteer

Inclusion: Employee Resource Groups, Commitment to diversity, Strategic partnerships

Not just a job, but a career, with an opportunity to do the best work of your life
Learn more about Life@Schwab.
What's in it for you
At Schwab, we're committed to empowering our employees' personal and professional success. Our purpose-driven, supportive culture, and focus on your development means you'll get the tools you need to make a positive difference in the finance industry. Our Hybrid Work and Flexibility approach balances our ongoing commitment to workplace flexibility, serving our clients, and our strong belief in the value of being together in person on a regular basis.
We offer a competitive benefits package that takes care of the whole you – both today and in the future:
401(k) with company match and Employee stock purchase plan
Paid time for vacation, volunteering, and 28-day sabbatical after every 5 years of service for eligible positions
Paid parental leave and family building benefits
Tuition reimbursement
Health, dental, and vision insurance
Eligible Schwabbies receive
Medical, dental and vision benefits

401(k) and employee stock purchase plans

Tuition reimbursement to keep developing your career

Paid parental leave and adoption/family building benefits

Sabbatical leave available after five years of employment
You have no recently viewed jobs