We can move an entire industry forward when we lead the way together.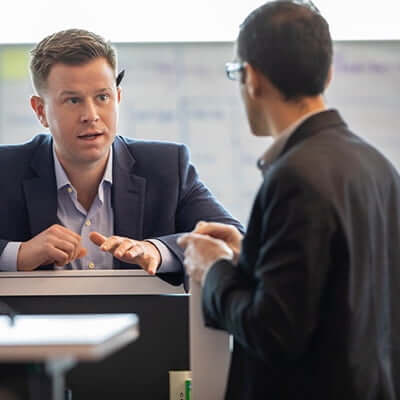 2024 Charles Schwab Corporate Finance Internship
Lone Tree, Colorado; Westlake, Texas; San Francisco, California
Requisition ID 2023-94163
Category Internship
Position type Intern (Trainee)
Your Opportunity
At Schwab, you're empowered to make an impact on your career. Here, innovative thought meets creative problem solving, helping us "challenge the status quo" and transform the finance industry together.
Within the Corporate Finance department we are hiring in three different sub tracks- Corporate Vendor Management, Enterprise Finance & Central Planning and Treasury. Within all of these tracks in the Corporate Finance department, there will be inspiring opportunities that welcome you into the Schwab culture and immerse you into your role. The interactive program focuses on a variety of opportunities which feature a business track project, an intern cohort project, learning activities, volunteering in the community, a dedicated intern leader, networking, and exploring your unique personal strengths!
Corporate Vendor Management (location Denver, CO, Westlake, TX)
These roles allows you to gain exposure into two departments Data & Insights or Supplier Management. In the Data & Insights role you will learn how to lead delivery of strategic analytics and insights. The CVM department is responsible for implementing a firm-wide, end-to-end vendor management process to maximize vendor performance and optimize value. The Data & Insights team provides data, analytics, and insights to enable CVM business partners and CVM stakeholders to make informed strategic decisions and drive behaviors. Data & Insights reports and dashboards provide insights into business spend and savings, risk, regulatory, and operational metrics. The team is also supporting efforts to design, build and implement automations to reduce manual work and improve efficiency. You will play a key role in delivering initiatives to advance the Data & Insights team's strategic objectives and roadmap.
In the Supplier Management role you will have the unique opportunity to understand the day-to-day supplier management functions, as well as gain department-wide knowledge through 1x1 interactions, providing ideas for process improvements, and through cross-organization project work. They will partner with members of the CVM team to understand the department's processes from vendor onboarding to termination. Through this work, the intern will understand the importance of collaboration between CVM teams, learn about Sourcing, Supplier Management, and Procurement and gain exposure to business units across the company.
Enterprise Finance & Central Planning (location Westlake, TX, Denver, CO, San Francisco, CA)
Enterprise Finance teams provide analytical and decision support to various business segments and product lines across the organization. Through a combination of collaboration and strategic partnership with each business, our goal is to provide the financial insight and knowledge to our leadership teams, facilitating value adding decisions. Interns joining these teams will support focuses around forecasting, investment prioritization through business cases, financial reporting, performance scorecard/metrics, process improvement and ad-hoc analytics including theme development and trend discovery within month-end close activities.
The Central Planning finance team provides analytical and decision support to all of Schwab's business lines by collaborating with each Finance team within Enterprise Finance. Our goal is to provide consolidated financial insights and knowledge to our executive leadership team, facilitating value adding decisions. The team support focuses on forecasting, investment prioritization, performance scorecard/metrics, ad-hoc analytics and reporting experience in support of corporate leadership.
Treasury (location San Francisco, CA)
In your role, you will learn how the Treasury Capital Management group develops and manages the capital strategies for the corporation and its subsidiaries, ensuring compliance with all related policies, procedures and banking regulations.  You will participate in capital management by maintaining and updating financial forecasts and assisting in monthly and quarterly reporting.  The work is performed across the organization and under tight deadlines. The Treasury Services team manages Schwab's relationships with external banks ensuring that Schwab maintains access to credit, liquidity, and banking services to support our operations.  This includes working with Schwab Corporate Vendor Management and Legal to negotiate contractual agreements with external banks.  In addition, Treasury Services participates on cross-functional initiatives involving banking, funds movement, cashiering policies, procedures, and systems.
Come "challenge the status quo" for the Summer of 2024 and learn what is means to be the next generation of Schwab change makers!
What you have
As an intern, it's not about what you know, it's about what you are willing to learn. We're seeking passionate students who are ready to own their Early Talent career and have the courage to ask "why".
Required Qualifications
Enrolled in a current undergraduate or graduate program tracking to graduate between August 2024 and June 2025
Ability to work full time and be on-site at one of the Schwab locations during the 9-week program (June 3 to August 2, 2024)
Preferred Qualifications
Corporate Vendor Management (Denver, CO, Westlake, TX)
Planned graduation date between December 2024 and June 2025 earning a bachelor's or master's degree (data related discipline preferred)
Adaptable to change and managing a workload in a dynamic environment
Innovative, client-focused approach to problem solving
Collaborative, team-player when working with cross-functional stakeholders at various levels
Strong oral and written communication skills and ability to tailor messages to audience and senior leadership
Proficiency in reporting, analysis, and critical thinking.
Excellent organizational skills and attention to detail, enabling one to manage multiple priorities and projects, while meeting deadlines.
Strong skills in PowerPoint and Excel
Exposure / experience with Tableau, Alteryx and / or Microsoft Power Platform or related low-code / no-code environment preferred
Previous experience with data analysis and automation
Ability to work independently and succeed in a dynamic, fast-paced environment
Enterprise Finance & Central Planning (Westlake, TX, Denver, CO, San Francisco, CA)
Optimism and curiosity, who possess a keen sense of purpose, awareness, and knowledge and who have the demeanor of an everyday leader
Resourcefulness and flexibility, who enjoy working through cross-functional partnerships and collaboration to achieve a common purpose
An innovative and questioning demeanor, who constantly look for better ways to do things, have a passion for service, and seek to exceed client expectations
A strong desire to build and grow a career in the financial services industry
Outstanding communication skills (written and oral)
Excellent organizational skills, enabling one to manage multiple priorities
The courage to ask "why"
Treasury (San Francisco, CA)
Planned final graduation date between December 2024 and June 2025 earning a bachelor's degree or higher in Accounting or Finance
Strong attention to detail and drive to succeed
Excellent communication skills (written and verbal)
Strong analytical skills and intellectual curiosity
Strong problem solving, organization, negotiation, and relationship management skills
Excellent organizational skills, enabling one to manage multiple priorities
Ability to build strong relationships and to work effectively with various levels of the organization
Colorado Compensation
Target Total Compensation - $28/hour
Your actual pay will be based on your skills and experience - talk with your recruiter to learn more.
What's in it for you
At Schwab, we're committed to empowering our employees' personal and professional success. Our purpose-driven, supportive culture, and focus on your development means you'll get the tools you need to make a positive difference in the finance industry.
You have no recently viewed jobs