We can move an entire industry forward when we lead the way together.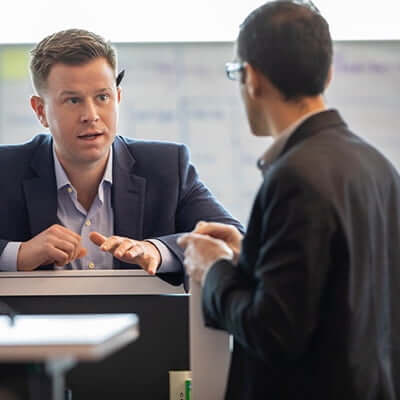 Sr Manager, Software Development & Engineering Senior
Austin, Texas
Requisition ID 2023-94703
Category Engineering & Software Development
Position type Regular
Salary USD $123,400 - $246,800 / Year
Your Opportunity
At Schwab, you're empowered to make an impact on your career. Here, innovative thought meets creative problem solving, helping us "challenge the status quo" and transform the finance industry together.
Collaborate with fellow developers to share best practices, prepare system appreciation documents for business requirements, review logic, and learn new Technologies. Work with number of different database systems as well as business processes. Responsible for Production support, maintenance and enhancement of applications supporting trading business. Collaborate with development teams and technology leaders across Schwab Technology on Product development, best practices, and automation. Assess and apply emerging technologies, practices, and processes and strategizing and executing projects to improve efficiency and innovation. The environment consists of Windows, SQL Server, Aerospike, MongoDB, .NET, RabbitMQ, IBM websphere and IIS.
Must be available to work in office three days a week. Work from home is acceptable two days a week. Subject to Schwab's internal approach to workplace flexibility.
What you have
Job Requirements: Bachelor's degree or foreign degree equivalent in Computer Science, Engineering (any), or related field and five (5) years of progressive, post-baccalaureate experience in the job offered or software developer related role. Skills: Experience and/or education must include: Mainframe Technologies: COBOL, DB2, Datacom, CICS, REXX, Clist, Syncsort, JCL, IBM Utilities; Version control tools: ChangeMan, Endeavor, Z/OS, File-Aid, Startool, TSO-ISPF, Schedulers: ESP, Control-M; Distributed Technologies:- C#, .Net, SQL Server, IBM WebSphere, IBM MQ, IBM Messaging Bus; Database Technologies: DB2, SQL Server NoSQL: Aerospike; Working in an agile environment : JIRA, Confluence, Bitbucket, Bamboo Configuration tools.
Charles Schwab & Company, Inc. seeks Sr Manager, Software Development & Engineering Senior in Austin, TX.
What's in it for you
At Schwab, we're committed to empowering our employees' personal and professional success. Our purpose-driven, supportive culture, and focus on your development means you'll get the tools you need to make a positive difference in the finance industry. Our Hybrid Work and Flexibility approach balances our ongoing commitment to workplace flexibility, serving our clients, and our strong belief in the value of being together in person on a regular basis.
We offer a competitive benefits package that takes care of the whole you – both today and in the future:
401(k) with company match and Employee stock purchase plan
Paid time for vacation, volunteering, and 28-day sabbatical after every 5 years of service for eligible positions
Paid parental leave and family building benefits
Tuition reimbursement
Health, dental, and vision insurance
Eligible Schwabbies receive
Medical, dental and vision benefits

401(k) and employee stock purchase plans

Tuition reimbursement to keep developing your career

Paid parental leave and adoption/family building benefits

Sabbatical leave available after five years of employment
You have no recently viewed jobs